Medical Research Bill with Device Safety Provision Passed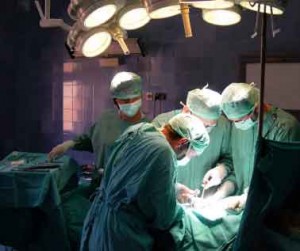 A medical research bill with a device safety provision inspired by the controversy over power morcellator side effects passed the House of Representatives on July 10. While the bill as a whole includes several provisions encouraging federal funding for medical research and further regulations regarding the way medications receive approval, the amendment requires that the make or model number of a device used in medical procedures be incorporated into a patient's records so that it can easily be traced if the need arises.
The medical device provision was sponsored by Rep. Mike Fitzpatrick of Pennsylvania who noted that information related to the device used in a procedure is not currently required as part of patient records and that this "makes it difficult to fully achieve the benefits to patient safety" where defective medical devices are concerned. Fitzpatrick said that he hopes to inspire a broader view about how medical devices in are approved and regulated.
Provision inspired by concern over morcellator side effects
Fitzpatrick notes that he was inspired to promote the amendment in response to problems with the power morcellator, a medical device used in gynecological surgery that appears to play a role in spreading cancer in some cases. The representative is a cancer survivor himself and states that "What happened with the power morcellator should never be allowed to happen again."
Power morcellators are devices used to break down tissue removed during hysterectomies or myomectomies (surgery to remove uterine fibroid tumors) in order to facilitate minimally invasive versions of these procedures. While the use of morcellation has been touted as enabling operations that entail less bleeding, smaller incisions, and faster recovery times, small bits of undetected cancerous tissue may also be broken down and spread throughout the uterus or abdomen in the process.
A study published in Obstetrics & Gynecology earlier this year found that 1 in 368 women who have hysterectomies due to the presence of uterine fibroids actually have a previously unknown sarcoma, or kind of cancer, that could potentially be spread by the morcellator device.
FDA recommends morcellator restrictions
The FDA issued recommendations regarding power morcellators when it found similar statistics: 1 in 350 women undergoing uterine fibroid tumors have a uterine sarcoma risk. Such statistics prompted the administration to suggest that far fewer women undergo uterine procedures using the devices.
Guidelines governing the use of morcellators stipulate that they not be used for women over 50, for women who have been given tamoxien or pelvic radiation, for women who test positive for BRCA mutations, or for women who have other risk factors for uterine cancers. The FDA also added that surgeons should use small bags to catch any bits of cancerous material that may escape during the procedure and spread disease in the abdomen. Finally, they advise manufacturers to add boxed warnings and contraindications to the labels of such products.
While a number of individuals have called for an outright ban on the power morcellator, the FDA continues to see benefits to their use in certain circumstances.