Uterine Leiomyosarcoma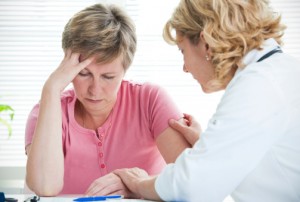 Minimally-invasive laparoscopic surgery is ideal, whenever feasible, because it reduces risk of bleeding, infection, scarring, organ perforation, and other complications associated with open surgery. The costs are lower and recovery time is much quicker. For women with large uteruses, power morcellation offers the opportunity to undergo a minimally-invasive hysterectomy that wouldn't otherwise be available.
Hysterectomy with power morcellation
The National Institute of Health says that by age 50, 70 percent of whites and 80 percent of African Americans will have fibroids. In most cases, these benign tumors are asymptomatic and women will be unaware they have them. In cases where they do cause symptoms, infertility, miscarriage, and early onset of labor may be traced back to the growths.
They did not speculate on the percentage of fibroids that are cancerous in their report, but the only way to treat problems with the uterus is to remove it using a procedure called a hysterectomy. More than 200,000 hysterectomies are performed each year, says the NIH.
A hysterectomy can treat:
Abnormal, uncontrolled vaginal bleeding
Severe endometriosis
Large, painful uterine fibroid (tumors)
Pelvic pain related to the uterus
Uterine prolapse leading to urinary incontinence or bowel obstruction
Cervical or uterine cancer
Power morcellators are medical devices used to cut up uterine fibroids through a small incision. While they are generally safe for use in most women, they spread cancerous cells throughout the body when used on a woman with uterine cancer. Since uterine cancer is notoriously difficult to detect, some medical professionals say the morcellation cancer risk is just not worth it for their patients.
How common is cancer from uterine fibroid removal surgery?
Uterine cancer is believed to be present in 27 of 10,000 women undergoing minimally invasive hysterectomy with morcellation, according to a Columbia University study published in the Journal of the American Medical Association. The risk of having undetected cancer increases with age, say researchers. For a woman in her early fifties, the risk was 4.97 percent; however, this risk jumped to 19.37 percent for women in their late fifties and got as high as 35.97 percent for women 65 and older.
One would think a simple test to check for uterine cancer prior to surgery would clear up the matter. However, there is currently no way to distinguish between benign uterine fibroids and leiomyosarcoma, an aggressive form of uterine cancer, prior to going in for surgery.
Other attempts to quantify the prevalence of cancer from uterine fibroid removal surgery have produced higher numbers. In January 2014, the Society of Gynecologic Oncology issued a statement via The Lancet Oncology that "one in 400 risk of morcellating an occult tumor is unacceptable."
In April 2014, the FDA noted a one in 352 risk of spreading undetected uterus cancer with morcellation – or one in 498 for spreading aggressive stage IV uterine cancer.
FDA warns about power morcellators and uterine cancer
The FDA announced that it was recommending that morcellator manufacturers include a boxed warning on the devices stating that their use "may spread cancer and decrease the long-term survival of patients," and that physicians share this news with their patients. To date, they have not issued any recalls or mandated a black box warning on all devices.
"It's very, very sad," Jim Leary of Greece, New York told The Rochester Democrat & Chronicle after losing his wife to morcellation hysterectomy cancer. "I would have thought the FDA had the courage to stand up and help women. Now more women will suffer tragic death as result of a government agency that has failed to do the job they are employed to do," he added.
Johnson & Johnson issues power morcellator recall
In an April safety communication letter, the FDA previously "discouraged the use of power morcellation in minimally invasive surgery for uterine fibroids," which prompted Johnson & Johnson to suspend sales and eventually issue their own recall of three laparoscopic power morcellators.
"It looks like the sarcoma risk is much higher than we originally thought," Ethicon consultant Steve McCarus told The Wall Street Journal.
"Because of this uncertainty, Ethicon believes that a market withdrawal of Ethicon morcellation devices is the appropriate course of action at this time until further medical guidelines are established and/or new technologies are developed to mitigate the risk," the company wrote in a letter.
"I support it 100%. They are putting patients before risk and technology," Steve McCarus told the media. "The real issue is, will other companies follow and if they don't, why not?"
So far, there have been no other companies to step forward and accept responsibility for the tragedies taking place in hospitals across America. Individual hospitals – like Strong Memorial, Highland Hospital, Rochester General and Newark Wayne Community in New York – have suspended the use of power morcellators in response to adverse events that made the local news.
Morcellation hysterectomy cancer lawsuits begin
Victims and their families are starting to seek legal help and file power morcellation lawsuits. Johnson & Johnson (and other manufacturers) may have been aware of serious morcellator cancer risk long before the recall, it is alleged.
In 2006, Dr. Robert Lamparter of the Evangelical Community Hospital in Lewisburg, Pennsylvania wrote a letter to the company, asking that they "reconsider the risk [of power morcellators] to the patient" as these devices "may lead to dissemination of malignant tissue" during hysterectomy, as prescreening for cancer is ineffective.
He explained in no uncertain terms: "When the operative procedure is a standard hysterectomy, no damage is done. If a morcellation is done, the patient's survival is jeopardized." With the aid of skilled morcellation cancer lawyer, plaintiffs may be eligible for compensation including medical expenses, wrongful death, and pain and suffering.