Man Alleges Rectal Burning in da Vinci Robot Lawsuit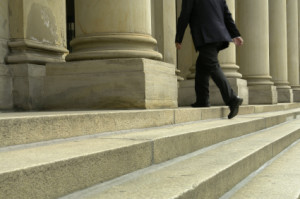 A Henderson, TX man has filed a da Vinci robot lawsuit against Intuitive Surgical, Inc. in the Northern District of California. Richard Pohly claims the surgical system caused him to suffer a thermal injury — burn — to his rectum during the procedure, which has left him with permanent and irreparable harm.
The surgery took place at a Texas hospital, on July 31, 2012. Pohly underwent a da Vinci prostatectomy and ISI's monopolar scissors were used throughout the surgery. His surgeon didn't initially realize the internal burning had occurred, as it was the result of unintended electrical energy escaping the surgical instruments. The claim states that the surgeon is not at fault for the plaintiff's injuries.
"Because of ISI's inadequate disclosures about its robots to UT and/or the Pohly surgical team, Pohly was not aware, prior to consenting to the da Vinci Prostatectomy, that the instruments to be used for the surgery had insulation problems that made them more prone to causing unintended burns than open surgery, traditional laparoscopic instruments, and/or laparoscopic instruments using an active electrode monitoring system," states the claim.
Impact of da Vinci robot burn
The claim notes that the plaintiff suffered severe bowel injuries as a result of the rectal burn, which have caused him physical pain, emotional distress, mental anguish, physical impairment and disfigurement. He has been forced to undergo extensive corrective treatments and the aftermath of the incident has had a negative impact on other parts of his body. He has experienced difficulty enjoying his life and has incurred massive medical bills and lost business opportunities.
Due to the nature of the injuries allegedly caused by the da Vinci robot, the plaintiff will continue to incur costly medical expenses and lost business opportunities.
Plaintiff sues Intuitive Surgical, Inc. on 5 counts
Pohly is suing Intuitive Surgical on five counts, including:
Defect in Warnings/Marketing Defect
Product Liability — Defect in Construction
Negligence
Product Liability — Defect in Design
ISI's Fraud
The claim notes that the company is headquartered in San Jose, CA, so proper jurisdiction is the San Jose Division of this Court, but Pohly believes his case should be assigned to the judge of related insurance cases in the San Francisco Division. There are currently two related cases pending against Intuitive Surgical and he believes there will be an undue burden of duplicate judicial labor if his case is assigned to a judge who isn't already familiar with the information.
Da Vinci surgery robot recall
Less than one year after Pohly's surgery, on May 31, 2013, the company issued a Class 2 Recall for its 8mm Monopolar Curved Scissors, but it was too late to prevent his injury. Less than one year earlier, on September 10, 2012, the company issued a Class 2 Recall for certain model numbers of its disposable box of 10 tip covers for its 8mm Monopolar Curved Scissors. The reason for the recall was a potential that the sterility of the product was compromised.
On November 3, 2014 Urgent Medical Device Recall letters were sent to inform customers that a total of 509 IS4000 units included deviations in reprocessing steps from those included in the instructions that can cause surface degradation of the housing and/or accelerate mechanical wear of the surgical instrument.