Conserve Hip Bellwether Trial Ends in $11M Verdict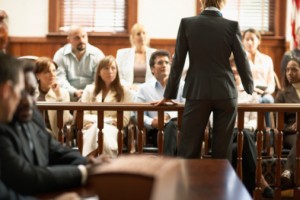 A federal jury in Georgia has awarded $11 million to plaintiff Robyn Christiansen in the first of several scheduled trials in the Wright Medical CONSERVE hip implants multidistrict litigation (MDL).
As a bellwether trial, the result will likely affect the strategy that the nearly 550 remaining CONSERVE plaintiffs and defendant Wright Medical Technology take in the remaining federal lawsuits.
$10 million awarded in punitive damages
Christiansen, a former ski instructor from Utah, received a Wright Medical CONSERVE replacement hip in 2006. A replacement hip is usually expected to last 15-20 years but Christiansen experienced complications when the implant loosened and dislodged; she underwent revision surgery to remove the implant in October 2012, after only six years. During the removal, her surgeon noted that the joint showed signs of metal poisoning and inflammation of the joint-lining membrane. After a two-week trial, the jury found Wright grossly negligent and awarded Christiansen $11 million in compensation.
Most of that amount – $10 million – constituted punitive damages intended to punish the manufacturer for a reckless disregard of consumer safety. The remaining $1 million represented compensatory damages including medical expenses and pain and suffering.
About CONSERVE hip replacement MDL
Nearly 550 CONSERVE hip replacement lawsuits in federal district courts against Wright Medical have been consolidated in the MDL in the Northern District of Georgia. Formed in 2012, the MDL pools the cases to reduce duplication of paperwork and effort related to common issues including alleged catastrophic failure of the metal-on-metal hip system and claims that the design was unreasonably dangerous or defective.
Multidistrict litigation is a common tool used by the federal courts to manage large numbers of lawsuits that share common facts. It is especially popular in dangerous drug and medical device cases, which can reach into the hundreds or thousands of plaintiffs who alleged the same defects and often-similar injuries. A federal judicial panel refers certain categories of cases to MDL, which it then assigns to a presiding judge who issues uniform rulings across the many lawsuits.
Verdict not binding on hundreds of other lawsuits
MDL No. 2329 is made up of claims related to three of Wright's products: the CONSERVE Total Hip Implant System, the CONSERVE Resurfacing System, and the CONSERVE Total A-Class Advanced Metal Hip Implant System. While there have been no recalls issued for the CONSERVE hip products, the FDA has received more than 200 reports of injuries related to metal-on-metal hips like CONSERVE.
It has also issued a warning that these types of hip replacement systems can shed metallic debris in the blood and tissues, leading to pain, swelling, disability, and a number of harmful medical conditions. Many of the plaintiffs in the CONSERVE MDL complain that the dangerous wearing away of metal joints related to the metal-on-metal construction has caused microscopic bits of metal to migrate into the surrounding tissues.
The result is painful inflammation and instances of metal poisoning like Christiansen experienced. The outcome of this first bellwether trial is not binding on other cases, but may offer some insight on the potential liability faced by Wright Medical.