Congressman Requests FDA Inquiry into Morcellation Deaths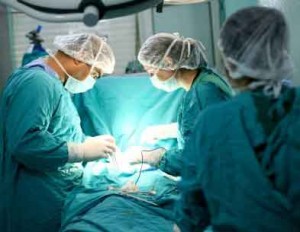 A member of congress has sent a letter to the FDA requesting that the organization investigate whether three hospitals violated mandatory reporting policies in connection deaths related to the use of power morcellators during gynecological surgery.
Michael G. Fitzpatrick, representative of the 8th district of Pennsylvania, sent a letter to George Karavetsos, the FDA's director of the Office of Criminal Investigations, requesting an inquiry into the conduct of officials at three hospitals: Brigham and Women's Hospital (of Boston); Rochester General Hospital; and the University of Rochester Medical Center.
The letter calls Karavetsos' attention to three cancer deaths of patients that were likely related to the use of morcellators at the hospital as part of surgical procedures there.
Power morcellators are used to break up tissue for easy removal during minimally invasive surgeries, including hysterectomies and myomectomies (removal of uterine fibroid tumors). The use of the devices has come under fine, however, because it appears that they may spread undetected cancer cells, hastening the death of a number of women who had morcellator-enabled surgeries.
Inquiry related to three hospitals requested
Fitzpatrick notes that under Medical Device Reporting Regulations, hospitals must report to the FDA within 10 days information that "reasonably suggests that a device has or may have caused or contributed to the death of a patient in …[a given] … facility." (21 CFR 803.30 (a) (1).
The congressman raised questions of three such facilities:
Brigham and Women's Hospital, where Erica Kaitz had surgery with a power morecellator on June 2012 and subsequently died of a leiomyosarcoma that was undetected and likely spread by morcellation.
Rochester General Hospital, where Barb Leary also had surgery with morcellation in 2009 and likewise died of leiomyosarcoma that was undetected and spread by the surgery. Linda Interlichia, who was operated on in 2013 died the following year of the same cause.
University of Rochester Medical Center, where Brenda Leuzzi had surgery in 2012 that led to a similar outcome two years later.
In the case of all three facilities, Fitzpatrick asked whether the deaths were properly reported to the FDA and, if not, why they weren't.
Power morcellator lawsuits filed
Fitzpatrick was one of 12 legislators who sent another letter in August to the Government Accountability Office requesting an investigation into the FDA's approval process for power morcellators. Their inquiry was prompted by the growing number of lawsuits filed against medical device manufacturers over the deaths allegedly related to the devices' use. All morcellator lawsuits related to the spread of cancer in connection to the use of morcellators have been centralized in the District of Kansas under U.S. District Judge Kathryn H. Vratil as part of a multidistrict litigation (MDL).
The devices have become so controversial that the chief morcellator manufacturer Ethicon (a subsidiary of Johnson & Johnson) announced that they were no longer producing them. Representatives of the company were quick to point out that this move stopped short of a "recall" of the product, arguing that the products themselves were not defective in and of themselves. While some hospitals no longer use the devices at all, others have retained limited use of morcellators, arguing that in certain circumstances the devices do more good than harm.