Lawsuit Claims Zimmer's Persona Knee Replacement Is Defective and Dangerous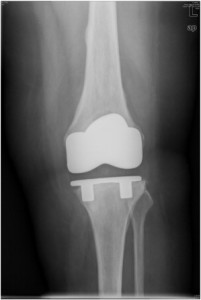 On January 12, a New Jersey man brought a product liability suit against medical device manufacturer Zimmer Inc., alleging that the company's Persona knee replacement is a defective and dangerous product.
The Zimmer knee lawsuit further alleges that the company was negligent, and failed to warn both the medical community and patients of issues related to the product. The plaintiff's wife seeks damages for loss of consortium.
Persona Knee System Implanted in 2014
The plaintiff, Anthony C. Vessela, Sr., received a Persona knee replacement system in which the tibial base plate failed, causing him to need revision surgery, the suit claims. It was filed in in the U.S. District Court for the District of New Jersey.
The suit alleges that the plate was apt to loosen, resulting in severe pain for the patient and the need to repeat surgical procedures. In addition, the claim indicates that the knee implant left the patient with injuries including loss of bone cartilage, surface, and tissue. These injuries were permanent, and affected the correct functioning of the knees implanted in the revision surgery, according to the plaintiff's claim.
Mr. Vessela's original knee implant took place in July 2014. The claim indicates that in March 2016, he needed revision surgery. This was roughly a year after the U.S. Food and Drug Administration (FDA) issued a recall of the Persona system's tibial base plate.
FDA Product Recall in 2015
In March 2015, the FDA announced that the company had voluntarily recalled components of the Zimmer Persona knee product. The recall affected every lot and size of the Trabecular Metal Tibial Plate implanted between November 2012 and early 2015.
Zimmer introduced the Persona knee replacement system in the latter part of 2012. The product was marketed as having an improved, gender-specific fit.
However, Zimmer has indicated that the rate of complaints received was much higher than it expected and higher vis-à-vis analogous products. Roughly 6% of the implants fail.
Some observers believe that the failure rate may rise as the implants are in bodies longer.
Knee replacement surgery is often performed on patients whose conditions, such as osteoarthritis, rheumatoid arthritis, knee injuries, and other issues, have made walking or other functions difficult and/or painful. Knee replacement surgery is undertaken after other treatments, such as medication and physical therapy, have proved ineffective.
The Agency for Healthcare Research and Quality indicates that almost half a million patients are candidates for knee replacement surgery annually in the U.S.
Zimmer, Inc. has been a manufacturer of knee replacement systems since the late 1960s. Its Zimmer NexGen Complete Knee Solution was approved by the FDA in the mid-1990s. Roughly half a million people have received it since then.
Additional "Zimmer Persona Knee Lawsuit" Resources:
United States District Court, District of New Jersey. Anthony C. Vessela, Sr. and Joann Vessela v. Zimmer Us, Inc., Zimmer, Inc., Zimmer Holdings, Inc., and Zimmer Orthopaedic Surgical Products, Inc. Complaint and Demand for Jury Trial. Case 1:18-cv-00550. https://jc6kx1c9izw3wansr3nmip8k-wpengine.netdna-ssl.com/wp-content/uploads/2018-1-12-persona-knee-vessella-complaint.pdf.
United States Food and Drug Administration. Class 2 Device Recall Persona Trabecular Metal Tibial Plate / Persona TM Tibia. March 12, 2015. https://www.accessdata.fda.gov/scripts/cdrh/cfdocs/cfRes/res.cfm?ID=133978