Zimmer Knee Lawsuit
For more than 80 years, Zimmer Manufacturing Company has been one of the world's leading providers of joint replacement products, including a wide range of innovative knee implants. Since launching its family of NexGen knee replacement prostheses, the manufacturer has sold over 3 million of the devices to patients seeking increased mobility and better flexion. In 2001, Zimmer announced its latest addition to the NexGen line – a series of High Flex components and total knee replacements that were marketed to a younger demographic – people who enjoyed activities such as gardening, golfing, and other outdoor pursuits.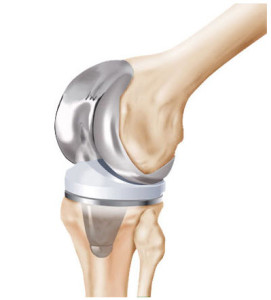 Regrettably, hundreds of patients who received variations of these NexGen High Flex implants began reporting high failure rates within a few months or years of receiving the devices. Under normal circumstances, a well-designed knee replacement can last upwards of 15 years. Some recipients pointed out design flaws in the devices, while others claimed Zimmer was guilty of misleading marketing concerning the purported efficacy and safety of its products.
To date, more than 800 people have filed a Zimmer knee lawsuit alleging severe complications from the company's High Flex line of prosthetics.
The majority of plaintiffs claim the implants' early failures were caused by loosening of the device, causing extreme pain in the joint area and often necessitating revision surgery to replace the failed components. Following a flood of litigation and mounting complaints of early knee failure, a voluntary Zimmer NexGen knee recall was issued for several component products.
High Flex failures spark Zimmer knee replacement lawsuits
To better handle the torrent of product liability claims involving allegedly defective Zimmer knee implants, the U.S. Judicial Panel on Multidistrict Litigation (JPML) established consolidated proceedings in the U.S. District Court for the Northern District of Illinois. The Zimmer knee replacement lawsuits consolidated in mulitidistrict litigation (MDL No. 2272) bring together federal cases filed throughout the country involving similar allegations and common issues of fact.
Knee replacements and components included in the Zimmer knee MDL include the following products:
NexGen Complete Knee Solution (LPS-Flex)
NexGen Complete Knee Solution CR-Flex Gender Solutions Female CR-Flex (GSF-Flex)
All NexGen MIS Total Knee Procedure Stemmed Tibial Components
NexGen Complete Knee Solution Gender Solutions Female LPS-Flex (GSF LPS-Flex)
NexGen Complete Knee Solution Cruciate Retaining-Flex Femoral Components (CR-Flex)
Individuals who were implanted with the Flex line of Zimmer knee implants, including the CR-Flex Porous, and endured the physical pain and suffering associated with a failed device are demanding monetary damages from the manufacturer. Most who've taken legal action against Zimmer have had at least one revision surgery – a costly and risky endeavor – and are seeking compensation for related medical expenses, loss of wages, costs for home rehabilitation and/or physical therapy, as well as damages for pain, suffering and permanent disability.
Zimmer knee replacement problems common to plaintiffs
Zimmer knee lawsuit plaintiffs cite complications that they claim stem from design flaws within the NexGen High Flex models.
Serious complications with NexGen knee implants reported by patients include:
Severe pain
Loosening of the device
Difficulty walking and bending
Inability to stand for long periods
Crunching and popping sounds in the knee joint
Chronic swelling around the implant
Need for premature revision surgery
Allegations raised in Zimmer knee lawsuits
Plaintiffs claim that Zimmer failed to adequately test their NexGen line of components prior to launching their products, and that they have suffered needless and avoidable injuries as a consequence.
Other legal allegations cited in Zimmer knee replacement lawsuits:
Zimmer failed to warn both consumers and the medical community concerning the safety risks associated with their NexGen knee replacement systems
The manufacturer engaged in misleading and deceptive advertising practices
Zimmer consciously and deliberately placed their financial gain above the rights and safety of consumers
The manufacturer knew or should have known about the potential complications associated with the NexGen knee replacement system and the risk of device loosening, but failed to warn the public or health care professionals
Zimmer negligently manufactured, designed and distributed a defective product known as the NexGen knee device
Zimmer engaged in omissions of pertinent information in order to present the NexGen knee replacement system as safe and effective
Zimmer is charged with counts of manufacturing and design defect, negligence, negligent misrepresentation, breach of implied warranty, unjust enrichment and violation of consumer protection statutes
FDA actions and Zimmer NexGen knee recall
In 2010, the FDA issued a Class II recall for Zimmer's NexGen Complete Knee Solution MIS Tibial Components, MIS Modular Tibial Plates and Keels and NexGen TM Tibial Trays. These components were removed from the market because of "noncomforming geometry" that prevented their locking screws from properly connecting with the stems. This propensity to dislocate caused recipients of these NexGen knee implants to suffer chronic pain, infections, reduced mobility and other complications.
Later that same year, Zimmer announced a voluntary product recall on some NexGen LPS femoral components because of purported manufacturing defects.
MDL consolidates Zimmer knee complaints
When the NexGen product liability multidistrict litigation was formed on August 8, 2011, less than 30 complaints were on the docket. Since that time, hundreds of cases have been transferred to MDL in Illinois district court, which is being overseen by Judge Rebecca Pallmeyer.
Individuals who file Zimmer NexGen knee lawsuits in state courts may also have their claims removed to MDL if the court agrees. At present, the litigation is still in the early stages and no announcements have been made regarding potential Zimmer knee settlements. The MDL facilitates a more efficient pre-trial process, enabling plaintiffs to share in the discovery process. However, each knee lawsuit is treated individually and is eligible for its own jury award or pre-trial settlement.
What a Zimmer knee lawyer can do for you
The right Zimmer knee attorney to represent your and your injury claim will have experience with litigation involving defective medical devices, and be familiar with winning legal strategies in such cases. He or she will know how to navigate the legal system on your behalf, from filing your lawsuit to discovery, to negotiating a settlement or presenting your case before a jury. And along the way, a good Zimmer knee lawyer will help, advise and support your decisions.
Zimmer has sold more than 3 million NexGen knee replacements for hundreds of millions in profit. In turn, hundreds of plaintiffs have filed lawsuits claiming negligence, failure to warn, and other serious allegations. Don't let your voice – your complaints – get lost in the crowd. Choose a lawyer with a proven track record, and one who understands the ins-and-outs of Zimmer knee lawsuits.
Winning a lawsuit always hinges on the details: the details of your specific circumstances and the generalities of your case. For example, your Zimmer knee lawyer will be responsible for establishing proof of your complications – and then linking your specific problems to proven Zimmer knee side effects. That's why it's so important to find a lawyer who stays current on recent happenings, new studies and research, FDA warnings, case filings and other Zimmer knee lawsuit current events.