Risperdal and Gynecomastia
Risperdal (risperidone) is an antipsychotic medication made by Johnson & Johnson and used in the treatment of schizophrenia, bipolar mania, and irritability associated with autism. Risperdal and its generic equivalents containing risperidone are approved for use in children and adolescents, even though the FDA warns that the drug causes serious side effects, and despite the fact that children and adolescents are especially at risk for developing certain side effects when taking risperidone. These side effects include gynecomastia, or male breast enlargement, and galactorrhea, or the production of breastmilk outside of childbirth or nursing.
How Risperdal can cause gynecomastia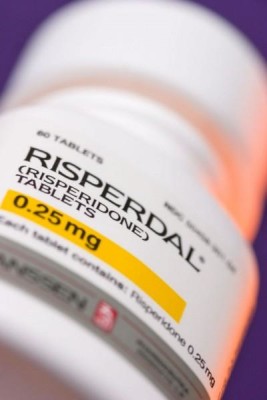 Risperidone works by blocking some of the effects of dopamine in the body's major systems. One of the effects that is blocked is the regulation of prolactin levels, which is why Risperdal has a tendency to cause hyperprolactinemia, or elevated prolactin levels in the bloodstream. Hyperprolactinemia may in turn lead to gynecomastia and galactorrhea.
Children and adolescents may be especially at risk for developing gynecomastia while taking Risperdal, due to the delicate and changing balance of hormones as they grow into puberty and adolescence. The Risperdal FDA warning label says that a clinical trial found gynecomastia in 2.3% of children and adolescents treated with Risperdal. The label also says that Risperdal has a stronger association with gynecomastia than other antipsychotic drugs on the market.
Symptoms and complications
Gynecomastia is the abnormal growth of breast tissue in males. Physical symptoms may include swelling, breast tenderness, pain, and discharge from the nipples. Male breast enlargement is usually physically harmless in the short and long term, but socially and emotionally, gynecomastia can be extremely damaging.
Studies and clinical reports show that the mental health effects of gynecomastia are significant and far-reaching. One study concluded that adolescents with gynecomastia have "significantly lower ratings of general health, self-esteem, social functioning, and mental health" when compared to other adolescents, and that these mental health problems appeared to be independent of the severity of the male breast enlargement.
The study said that gynecomastia "has a significant psychosocial impact on patients that extends beyond age-related insecurity and is independent of clinical grade."
The following issues were reported in adolescents with male breast enlargement:
Embarrassment / humiliation
Rejection
Teasing
Feelings of loneliness, restlessness, and tension
Depression
Anxiety
Adjustment disorders
Suicidal ideation
Coping with male breast enlargement
Drug-induced gynecomastia is often permanent and may require breast reduction surgery to correct. While there are no drugs currently approved by the FDA to treat the condition, some medications may be prescribed off-label in an effort to counteract the breast growth. Surgeries like liposuction (removal of fat from the breast area) and mastectomy (removal of glandular breast tissue) may be performed, although the expense, potential for complications, and permanent scarring associated with these procedures may deter some from pursuing this option.
Doctors recommend that people coping with gynecomastia seek out counseling or talk therapy to help avoid the psychological symptoms of the condition. Talking with family and friends, or with support groups or organizations for men with male breast enlargement, can also be helpful.
Risperdal gynecomastia: studies and reports
Since its approval in 1993, Risperdal has been studied extensively and links between risperidone, hyperprolactinemia, and gynecomastia have been found over and over again. Numerous studies detailing the side effects of anti-psychotic drugs find that risperidone is especially prone to causing hormonal imbalance and male breast enlargement even when compared to other drugs known to cause these conditions.
A few of the Risperdal side effects studies and case reports include:
A 1998 study conducted after a Risperdal patient developed gynecomastia revealed significantly elevated prolactin levels in patients taking risperidone (Acta Psychiatrica Scandinavica)
A 1999 study of risperidone symptoms including gynecomastia and other symptoms finds that the incidence of adverse effects increases with higher doses of the drug (Journal of Clinical Psychopharmacology)
A 2001 case report describes a patient who developed gynecomastia shortly after beginning risperidone which resolved shortly after discontinuation of the drug (Journal of Psychopharmacology)
A 2003 study finds elevated prolactin levels in 65% of patients taking risperidone (Pharmacological Research)
A 2006 study says that risperidone is associated with a higher rate of gynecomastia or galactorrhea (5%) than other antipsychotics (<1%) (The American Journal of Psychiatry)
A 2009 analysis of 29 studies finds that 3% of children and adolescents taking risperidone developed gynacomastia (Journal of Child and Adolescent Psychopharmacology)
A 2012 review of antipsychotic treatments finds that risperidone is associated with a higher rate of gynacomastia than other treatments and that younger patients may be more susceptible than adults (Journal of Psychopharmacology)
Risperdal lawsuits
Hundreds of Risperdal lawsuits have been filed alleging injury due to side effects of risperidone, including at least 120 alleging male breast enlargement. In September 2012, Johnson & Johnson began negotiating with plaintiffs' Risperdal attorneys and paying settlements to dozens of gynecomastia victims.
Notable Risperdal lawsuits include:
Aaron Banks, a 21 year old male who took Risperdal starting at age 9, when the drug had not been approved for use in children. Banks developed gynecomastia and had to have his breasts surgically removed. His lawsuit alleges that Johnson & Johnson illegally marketed the drug to children and downplayed or hid the risks. Johnson & Johnson settled this case for an undisclosed amount.
A Texas minor, age 15, was given Risperdal in an off-label usage to treat symptoms of Asperger's Syndrome. The minor developed breasts as a result of taking the drug for unapproved uses. The plaintiff's lawyer claims that Johnson & Johnson knew of the risk of gynecomastia and other Risperdal side effects, but trained marketing and sales staff to downplay or hide the risks in marketing calls to doctors.