Texas Pradaxa Lawsuit Claims Dangerous Drug Caused Plaintiff's Stroke and Internal Bleeding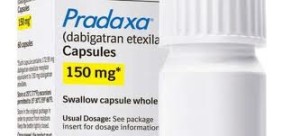 A Pradaxa lawsuit filed in Texas alleges the plaintiff suffered a stroke and internal bleeding due to the drug, an anticoagulant. The complaint, filed against Pradaxa's manufacturer Boehringer Ingelheim Pharmaceuticals, Inc. (Boehringer), also alleges the defendant produced a dangerous drug, negligently manufactured it, failed to properly test the drug and warn of the dangers of Pradaxa.
Alleged Side Effects of Pradaxa: Stroke and Internal Bleeding
The complaint, filed in District Court in Harris County by Cologero Frank "Jerry" Mancuso on August 23, 2013, states the plaintiff was prescribed the blood thinning drug in December 2010 by his physician and was given a free 30 day sample of Pradaxa. After his supply ran out in mid-January 2011, he contacted multiple pharmacies to continue using the drug. He was told the drug was unavailable and it was unknown when more Pradaxa would be available. The plaintiff suffered a stroke on January 25, 2011. The complaint alleges one of the dangers of Pradaxa is abrupt discontinuation of the drug will likely cause a stroke. The complaint states Boehringer was negligent for putting a product in the market in an insufficient quantity, knowing that if a consumer abruptly stopped using the drug it could cause a stroke and failed to warn the public of this side effect.
The plaintiff later obtained more Pradaxa from a pharmacy, continued taking it and discovered blood in his urine in September 2011. Plaintiff later had surgery to treat the problem.  The complaint states in November 2012, the U.S. Food & Drug Administration (FDA) reported many instances of dangerous bleeding in patients taking Pradaxa. This Pradaxa lawsuit seeks damages, which include medical expenses, pain, suffering, loss of enjoyment of life, lost income and future expenses.
Pradaxa maintains popularity…
USAToday reports Pradaxa has been criticized by physicians groups and patient advocates since the FDA reported 3,781 adverse effects and 542 deaths associated with the drug in 2011.  Those numbers surpassed all other drugs the agency monitored. The newspaper reports millions of Americans have taken the drug, a blood thinner approved in 2010 for use by patients with irregular heartbeats. It was initially well received as a replacement for the drug warfarin (brand name drug Coumadin), the leading stroke prevention drug that requires weekly exams and dietary restrictions (unlike Pradaxa).  Boehringer, a German company and one of the world's largest pharmaceutical manufacturers, according to USAToday, spent $464 million to promote the drug, including advertising directly to consumers.  Sales of Pradaxa later topped $1 billion.
…Despite serious risks for patients
The Cleveland Plain Dealer reports a January 2012 study by the Cleveland Clinic comparing those using Pradaxa and warfarin established that one of the dangers of Pradaxa includes "a small, but real, increase in risk of heart attack".  The study also found uncontrollable bleeding to be another Pradaxa danger.  Although bleeding can be a side effect of any drug reducing the blood's ability to clot, Pradaxa, unlike warfarin, has no antidote.  The Plain Dealer quotes Cleveland Clinic epidemiologist Adrian Hernandez as saying, "What we've seen is that the amount of people having death from hemorrhagic events in the brain is higher than expected. That's another part that's being played out now as part of this risk-benefit."
The complaint alleges Mr. Mancuso was not fully warned of the risks of taking Pradaxa, so he wouldn't have been able to decide the risk-benefit of Pradaxa before he started using it.