New Study Indicates One-Third of Knee Arthroplasty Surgeries Unnecessary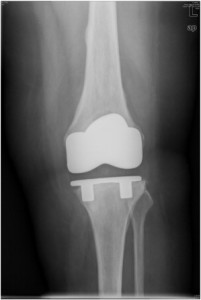 A recent study suggests that as many as one-third of all knee replacement surgeries may be unnecessary. This brings into question the validity of the growing number of Zimmer knee replacement complications that have been reported in recent years.
The study indicates that a concerning number of patients may be exposed to complications and the need for revision surgery without experiencing the benefits of knee replacement surgery.
Study follows spike in knee implant lawsuits
Findings from this study come on the heels of a growing number of lawsuits against knee replacement manufacturer Zimmer Orthopedics. The company has been under fire in recent years for a large number of adverse event reports from patients who have experienced serious complications and early device failure with their Zimmer knee implants. Zimmer is now facing hundreds of product liability lawsuits, as injured patients have come forward to seek monetary compensation for their medical bills, pain and other financial losses.
The study was conducted by researchers at Virginia Commonwealth University and published in Arthritis and Rheumatology in June. Scientists studied data on approximately 4,800 patients who had been diagnosed with osteoarthritis in the knee or had been placed in the high risk category. More than 200 of those patients had undergone knee replacement surgery.
The average age of the patients that underwent surgery was 67 and approximately 60 percent were female. To determine whether surgery was appropriate, researchers used criteria developed by Dr. Antonio Escobar and colleagues at the Hospital de Basurto in Spain. The United States does not have a specific set of criteria to use for determining the need for knee replacement surgery at this time, so most surgeries are ordered based on the patient's own reports of pain and reduced mobility.
Less than half of surgeries deemed "appropriate"
According to the criteria used, only 44 percent of the knee replacement surgeries performed were considered appropriate. Another 34 percent were determined to be inappropriate and another 22 percent were inconclusive, based on the information provided. Researchers concluded that the findings demonstrated a need for more objective criteria in the U.S. for determining when to perform knee replacement surgery and when other forms of treatment might be a better choice.
Unnecessary surgery is a concern for medical providers and patients alike, particularly in light of the many complications patients face with knee replacement procedures. In some cases, those complications may stem from defective devices that lead to painful side effects and even the need for early revision surgery. The Zimmer NexGen knee system is one example of an implant device that has been linked to premature loosening of the joint and the need for revision surgery.
Zimmer knee litigation grows
Hundreds of patients have now filed lawsuits against Zimmer, alleging they were not properly warned about the possibility of serious Zimmer knee replacement complications. In September 2010, the FDA issued a class 2 recall of some of the NexGen components, citing a high incidence of joint loosening and early joint failure as reasons behind the action.
There are now more than 1,000 plaintiffs who have filed Zimmer knee lawsuits regarding NexGen complications and injuries. Many of those are coordinated into multidistrict litigation in U.S. District Court for the Northern District of Illinois for the purpose of streamlining early trial proceedings.