Januvia Pancreatic Cancer Lawsuit Joins MDL No. 2452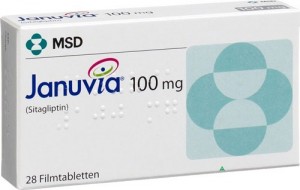 Manufactured by pharmaceutical giant Merck and Co., Januvia is a top-selling diabetes medication used by millions of Americans. The drug is type of DPP-4 inhibitor and one of the first of its kind to be cleared by the FDA nearly eight years ago. Since its commercial launch in 2006, Januvia has been blamed for a host of life-threatening side effects, the most of common being pancreatic cancer.
Byetta, Janumet and Victoza, three other widely-prescribed incretin mimetics, have also been associated with pancreatitis and cancer of the pancreas.
Currently more than three hundred product liability lawsuits alleging pancreatic cancer from incretin mimetics have been filed in district courts throughout the nation. In light of this mounting litigation, a federal judicial panel established multidistrict litigation in the U.S. District Court for the Southern District of California to better handle pretrial matters, reduce duplicative discovery, prevent inconsistent pretrial rulings, and conserve the resources of the parties and the court.
MDL No. 2452 continues to accumulate more tag-along actions and direct filings, with the latest Januvia pancreatic cancer lawsuit brought by Massachusetts resident, Frances Pickett.
Januvia lawsuit alleges pancreatic cancer
On September 11, 2014, plaintiff Frances Pickett joined the coordinated litigation overseen by the Honorable Anthony J. Battaglia. According to her short form complaint, she was prescribed and took Januvia from November 2011 through September 2013. Later that same year she was diagnosed with pancreatic cancer.
Her complaint argues that Merck & Co. had a responsibility to alert consumers about Januvia and pancreatic cancer risks, but failed to do so. In addition, litigants claim that drug companies like Merck intentionally concealed information indicating their medication caused pancreatic injuries, knowing that such side effects would hurt sales.
Incretin mimetic dangers
Several clinical trials and published studies have shed light on incretin mimetic dangers, suggesting the drugs may pose unreasonable risk for cancerous pancreatic conditions. Last year, researchers at Johns Hopkins reported that 1,269 Type 2 diabetic patients treated with incretin mimetics showed a 150 percent increased incidence of pancreatitis, compared to those treated with other drugs. Pancreatitis is often a precursor to pancreatic cancer.
Health officials at the FDA continue to examine potential risks of incretin mimetics, and in 2013 released a safety communication stating the agency was evaluating unpublished findings that indicate Januvia and Byetta exposure may increase risk of pancreatic inflammation and cancerous cellular changes.
Stage 1 pancreatic cancer has just a 14 percent 5-year survival rate, and those diagnosed with Stage IV cancer have a mere one percent five-year survival rate if surgery isn't performed. Such low survival rates are usually due to the fact that symptoms rarely present until the malignancy has progressed substantially, making an operation nearly impossible.
Causes of action leveled by plaintiffs
Plaintiffs in MDL 2452 are demanding fair compensation for their medical expenses, lost income, pain and suffering, as well as survival benefits in lawsuits alleging wrongful death of a loved one.
In her short form complaint, plaintiff Pickett is suing on counts of:
Strict Liability – Failure to Warn
Strict Liability – Design Defect
Negligence
Breach of Implied Warranty
Breach of Express Warranty
Punitive Damages