Alabama Couple Files AndroGel Lawsuit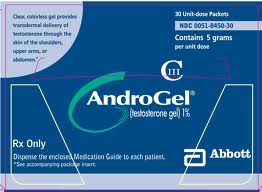 An Alabama couple has filed an AndroGel lawsuit against AbbVie Inc. and Abbot Laboratories Inc., the makers of the product. On November 20, 2012, Richard Freeman was prescribed AndroGel to treat symptoms caused by low levels of testosterone. Shortly after, in February 2013, he began to suffer from pain and swelling in his foot, leg and groin.
Freeman's primary care physician sent him to the hospital for further evaluation, where he was ultimately diagnosed with deep vein thrombosis, a condition occurring when a blood clot forms in one or more of the deep veins of the body, usually in the legs.
It can cause leg pain or swelling and made lead to a pulmonary embolism. He suffered from systematic blood clots four times in 2013 — in February, May, August and December. In October 2013, Freeman was diagnosed with an ocular stroke. His life has been extremely impacted by the blood clots and the ocular stroke, as he now suffers from permanent decrease in vision, permanent loss of vision and is unable to perceive light in his eye and has subsequently been declared legally blind.
Freeman was forced to undergo emergency medical treatment and will require ongoing medical care for the rest of his life.
Plaintiffs accuse defense of misrepresentation
Freeman accuses the defendants of materially and deceptively misrepresenting and mischaracterizing the definition of hypogonadism to both himself and his physician.
He claims there were no warnings on the AndroGel packaging indicating that the testosterone supplement could cause blood clots, stroke, ocular stroke or deep vein thrombosis.
The plaintiffs are suing the defendants for past and future medical expenses, lost wages and pain and suffering.
His lawsuit includes the following eight counts:
Breach of Express Warranty
Strict Products Liability — Failure to Warn
Breach of Implied Warranty
Loss of Consortium
Negligence
Fraud
Negligent Misrepresentation
Design Defect
About AndroGel
AndroGel is a testosterone therapy used to treat males with low levels of the  male hormone. The medication is absorbed into the body through the skin and enters the bloodstream to help increase testosterone levels to a normal amount. The male body requires a certain amount of testosterone to produce sperm, develop and maintain male sexual characteristics, maintain muscle, prevent bone loss and to maintain natural sexual desires and abilities.
The gel is applied to the shoulders and upper arm areas that will be covered by a short-sleeve t-shirt. The FDA warns users not to apply AndroGel to any other parts of the body, such as the stomach area, penis, scrotum, chest, armpits or knees. The product should be applied at the same time each morning, after showering.
The FDA warns that testosterone therapy can cause serious side effects, such as:
Men already experiencing signs of an enlarged prostate gland may notice their symptoms getting worse
Possible increased risk of prostate cancer
Large doses may lower the sperm count
Swelling of the ankles, feet or body — with or without heart failure
Enlarged or painful breasts
Sleep apnea
Blood clots in the legs or lungs
Additionally, common testosterone side effects include increased prostate specific antigen, mood swings, hypertension, increased red blood cell count and skin irritation on the area where the gel is applied.