Takeda Offers $2.2 Billion Actos Settlement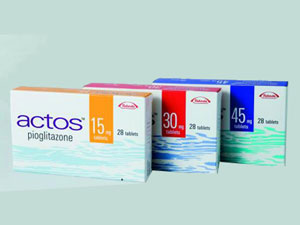 Takeda Pharmaceuticals, manufacturer of Actos, is willing to pay $2.2 billion to resolve claims that it concealed cancer risks linked to its diabetes medicine. The proposed Actos settlement, if accepted by plaintiffs, would mark one of the largest U.S. accords of patient lawsuits involving pharmaceutical drugs, says Bloomberg News.
Christophe Weber, Takeda's CEO, declined to comment about a potential deal, only saying that "Takeda always had the same position. We believe that Actos provides the right benefit risk ratio for patients, is still a good medicine for patients."
Meanwhile confidential sources told Bloomberg News that the settlement would affect more than 8,000 cases, pending in both state and federal courts. This would equate to roughly $275,000 for each Actos plaintiff. The Japanese drug manufacturer has been accused of deliberately hiding evidence that Actos can cause bladder cancer, and has been defending its blockbuster drug in courts for the last three years.
While the settlement has not yet been confirmed, experts believe this may be a preemptive measure to help evade additional multi-million verdicts, like the one handed down in Louisiana federal court.
Proposed $2.2 billion settlement for Actos bladder cancer cases
The original $9 billion verdict against Takeda and Eli Lilly, rendered in the Actos federal multidistrict litigation, was later reduced to $36.8 million.  While the judgment was cut by nearly 99 percent, it still reveals the massive liability faced by Takeda in thousands of other cases.  Sources tell Bloomberg that settlement negotiations could still fall apart as a final deal has yet to be made. Takeda may also take a different approach and settle caseloads filed through certain law firms, while continuing negotiation talks with other plaintiffs.
Legal counsel for some plaintiffs argue that $2.2 billion simply isn't enough money to adequately compensate all the patients who were diagnosed with bladder cancer after taking Actos. Considering that Takeda has made more than $16 billion from Actos sales since its 1999 launch, $275,000 for each bladder cancer victim may seem wholly inadequate.
To complicate matters further, only Actos patients who have already filed suit or whose lawyer is preparing to sue are eligible to participate in the settlement. According to Bloomberg sources, this stipulation is to help Takeda avoid the threat of additional settlements or payouts against future claims.
Actos litigation and past verdicts
Since 2013, nine Actos lawsuits alleging bladder cancer have gone before jury, including the bellwether Louisiana trial. Over the years, jurors have handed down three defense verdicts and five judgements for the plaintiffs. Other damage awards against Takeda were vacated or are on appeal.
"Given the results of the trials so far and the number of potential judgments against the company, $2.2. billion is a bargain," said Erik Gordon, a professor at the University of Michigan's business and law schools. "If Takeda can settle the multidistrict cases for $2.2 billion, they should sign the papers and leave town."
Takeda's attorney has not responded to calls regarding the reported settlement, which may bring an end to protracted litigation that has affected thousands of consumers nationwide.
France and Germany stopped selling Actos amid concerns of cancer risk, but this diabetes medication has remained on U.S. shelves, with an updated bladder cancer warning on the label.