Study Raises Concerns about Actos and Pancreatic Cancer Risks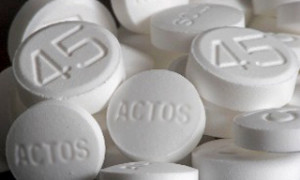 On the heals of Takeda Pharmaceuticals reaching a multi-billion dollar settlement agreement with thousands of Actos bladder cancer plaintiffs, a new study raises concerns about additional side effects of the drug, including increased risk of pancreatic and prostate cancers.
The study, published in The Journal of the American Medical Association (JAMA) on July 21, surveyed information about diabetes patients taking Actos (or pioglitazone) and potential links to 11 different kinds of cancers. They included records for 193,099 patients 40 years of age or older and looked at data between 1997 and 2002. Researchers took into account the use of Actos, the length of time the drug was used, and the total amount used.
Results of the study indicated that the drug could potentially raise the risk for developing pancreatic cancer by 41% and for prostate cancer by 13%. However, in contrast to previous studies, the researchers found no significant connection between the use of Actos and the risk of developing bladder cancer. Cancer researchers from both the University of Pennsylvania and Kaiser Permanente were involved in the study, which was funded by Takeda Pharmaceuticals.
Concern about Actos side effects and cancer risks
While the most recent study does not suggest a link between Actos and bladder cancer, several previously published works strongly suggest that the diabetes medication may raise the risk of developing bladder cancer. For instance, the British Medical Journal published a study in May of 2012 in which researchers reported that using Actos elevated bladder cancer risks by 83 percent and that such risks increased the longer patients used the drugs.
One of the most crucial studies is based on work conducted by Kaiser Permanente and funded by Takeda. The FDA mandated the 10-year study after preclinical trials pointed to more frequent bladder tumors in rats. At the five-year mark, the study turned up a 40 percent increase in bladder cancer risks among Actos patients, which led the FDA to require label changes related to bladder cancer in 2011.
Takeda Pharmaceuticals released a statement at the time of the study's completion indicating that researchers involved had not found a "statistically significant" link between their drug and bladder cancer. However, the company declined to release detailed results of the study itself.
Takeda proposes settlement with 8,000 plaintiffs
Takeda Pharmaceuticals has only recently reached a significant settlement with plaintiffs who claimed that Actos caused their bladder cancer. In April, the company agreed to a $2.4 settlement with approximately 8,000 plaintiffs who contended that the company had not conducted adequate safety research into its diabetes drug and had failed to warn potential patients or health care professionals about potentially life-threatening side effects of Actos. Each plaintiff involved in the settlement could expect to receive more than $296,000, though that amount could be reduced in connection to factors such as age or smoking history.
In that same month, the company lost a federal Actos lawsuit in which plaintiffs were initially awarded $9 billion by the jury. That amount included significant punitive damages related to allegations that Takeda and its partner Eli Lilly had destroyed pertinent evidence related to bladder cancer risks. The amount of the jury award was later reduced to $37 million in conformity with state laws stipulating a cap on such punitive damages.