Actos Side Effects
Actos (pioglitazone) is a type 2 diabetes medication that has been linked by patient reports and Food and Drug Administration (FDA) investigations to serious side effects, including an increased risk for heart failure and bladder cancer. Manufactured by Takeda Pharmaceuticals, Actos is taken orally, and works by increasing insulin sensitivity in order to manage blood sugar levels. Type 2 diabetes is a chronic condition that can lead to serious complications; however, for some taking Actos, the remedy can be as potentially damaging as the disease itself.
Common Actos side effects
Patients taking Actos run the risk of side effects not just while using the drug at a stabilized dosage, but also if they increase the dosage or abruptly cease taking Actos. One of the most common side effects of Actos is hypoglycemia, a condition in which a person's blood sugar drops below 70 mg/dL. Severe cases of hypoglycemia can lead to brain damage or seizures.
Some of the common signs of hypoglycemia include:
Dizziness
Lightheadedness
Shakiness
Sweating
Confusion
Irritability
Rapid heartbeat
According to the FDA's medication guide, other common side effects of Actos include cold-like symptoms, sore throat, muscle pain, headache, and sinus infection, along with a fever and chills. Some patients have reported malaise, tooth pain, and unexplained fatigue. Actos has also been linked to the onset of lactic acidosis in some patients.
Some people may suffer an allergic reaction from taking Actos, which can cause symptoms like:
Constriction of airways (trouble breathing)
Swelling of the facial region
Skin reactions (hives, itching, rashes)
Heart problems associated with Actos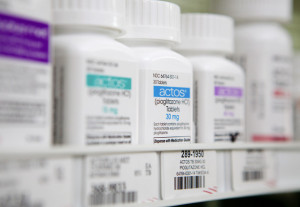 Some Actos side effects can be quite severe, and have the potential to cause lifelong damage. Actos has been linked to an increased risk of congestive heart failure. When a person develops heart failure, it means that the heart is no longer able to sufficiently pump blood to "feed" the body. When the kidneys do not receive sufficient amounts of blood, they are no longer able to adequately filter waste out of the body. The excess fluid accumulates in the body in a process called fluid congestion. Patients will typically experience swelling in the legs and around the eyes, and the fluid also accumulates in the lungs and liver.
Patients taking Actos are also at a higher risk of a heart attack. In fact, in a study published in Circulation, an American Heart Association journal, researchers demonstrated that those taking the diabetes medication were at a four percent higher risk of a heart attack, as well as heart failure and death.
Actos and bladder cancer
Other serious Actos side effects include the risk of bladder cancer. The risk of this life-threatening disease increases the longer a person uses the medication. Those who have used Actos for at least a year have a 40 percent higher risk of the cancer, according to the FDA.
Symptoms of bladder cancer include:
Bloody urine
Painful, frequent urination
Pelvic pain
Back pain
Those who develop bladder cancer may need to undergo invasive, painful surgeries. Even if the cancer goes into remission, bladder cancer has a high rate of recurrence.
FDA issued Actos warnings
In response to the reports of Actos side effects like heart problems and bladder cancer, the FDA took a closer look at the medication. In 2007, the FDA issued a black box warning, the strongest possible warning for a medication, to Actos for its risk of heart failure. The FDA's Actos warning further recommends that physicians should observe patients for signs of heart failure, and that Actos should not be used in patients who already have signs of the condition.
The FDA also issued updated warnings regarding incidences of bladder cancer. In August 2011, a safety communication was released that warned patients that taking Actos for longer than a year could increase the risk of cancer. The FDA warned against prescribing the drug to patients with active bladder cancer, and recommended prompt medical attention for patients who exhibit potential signs of the disease.
Actos bone fractures of special concern to women
Although the potential side effects of the drug affect both men and women, certain complications are of particular concern for female patients. According to the FDA medication guide, women may be at a higher risk for bone fractures while taking Actos, particularly fractures of the foot, hand, and upper arm.
The medication guide also warns women that Actos can increase the chance of unplanned pregnancies, because it may stimulate the release of an egg. It is unknown if this drug will harm an unborn baby, and the medication guide recommends that women use birth control while taking Actos. In addition to the possibility of birth defects, it is unknown whether the drug will harm a nursing infant. More studies are needed in this area.
Side effects lead to lawsuits
Many lawsuits have been filed on behalf of plaintiffs who allegedly suffered from Actos side effects. These complaints typically allege that Takeda Pharmaceuticals failed to adequately warn patients and doctors about the risks. One such example is a lawsuit filed by plaintiffs Stephen and Margaret Tantillo. Stephen allegedly developed bladder cancer after using Actos, and claims not only that his disease is a direct and proximate cause of the drug, but that neither he nor his prescribing physician were made aware of the significant risk he was facing.
So many Actos lawsuits have been filed against Takeda that share commonalities that all federal cases were consolidated into a multidistrict litigation (MDL) in December 2011. The first of these Actos MDL cases is scheduled to go to trial in January 2014.