Plaintiff Alleges Morcellation Led to Spread of Potentially Deadly Uterine Cancer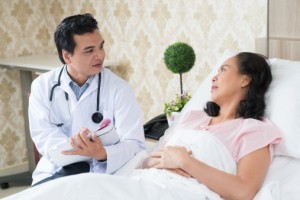 A couple has filed a lawsuit involving a power morcellator, alleging the device led to the spread of a potentially deadly uterine cancer in the wife. The couple further asserts that the manufacturer of this device, Storz America, failed to provide proper warning about the risks associated with their product. Specifically, plaintiffs said the company failed to alert physicians and the general public to the risk that the device could spread undetected cancer cells, making the cancer much more difficult to treat.
Audrey and Darryl Rayford filed their complaint in U.S. District Court for the Western District of Louisiana on December 15. In the complaint, the couple states Audrey Rayford underwent a laparoscopic supracervical hysterectomy using power morcellation in December 2014. This procedure involves the removal of the uterus using four small abdominal incisions, leaving the cervix in place.
Power morcellation can be used during this type of procedure to break up the uterus prior to removal from the abdomen. While these devices were touted by their manufacturers as an efficient way to perform hysterectomies and myomectomies with less discomfort and recovery time, concerns about the dangers of morcellation have since surfaced. Women with undetected uterine cancer that undergo morcellation procedures may find the cancer spreads during the surgery, making it much more challenging to treat.
No cancer detected before procedure
Rayford states in her complaint that prior to her surgery, she had no evidence of metastasized cancer (cancer that has spread from its initial location). However, "very shortly" after her procedure, Rayford was told she had cancer of the uterus. She later discovered that the use of morcellation during her surgery could have played a significant role in the spread of her cancer.
While the complaint does not specify the type of cancer in Rayford's diagnosis, uterine sarcoma is a common one to be spread by morcellation procedures. Uterine sarcoma is a relatively rare form of uterine cancer that typically has a good prognosis if the cancer is detected before it spreads to other areas of the abdomen. Once the cancer has metastasized, treatment becomes more aggressive and the prognosis becomes less optimistic.
FDA issues warning, women file lawsuits
In April 2014, the FDA issued a safety communication, warning physicians and patients that power morcellators could spread undetected cancer cells. Because there was no way to know for sure if cancer cells were present prior to a procedure, the FDA recommended at the time that patients be counseled on the risks associated with power morcellators. The agency also advised that morcellators should not be used in the majority of hysterectomies and myomectomies, since vaginal procedures are associated with better results and fewer complications.
At the same time, numerous women have filed morcellator lawsuits against the manufacturers of these devices, alleging they were not informed of the risks before undergoing their laparoscopic procedures. In October, federal cases involving power morcellators were coordinated into multidistrict litigation in Kansas, in order to streamline early trial proceedings and make the process more convenient and efficient for all parties involved.
Rayford states in her complaint that she is now undergoing "aggressive treatment and therapy" since her cancer diagnosis. She has listed numerous counts against Storz America, including products liability and breach of warranty. She points out that she has suffered and will continue to suffer from her injuries, including an increased risk of death. Her husband Darryl Rayford has also listed loss of services as one of the counts against the defendant, alleging his wife's injuries deprived him of her services and companionship.