Number of IVC Filter Lawsuits on the Rise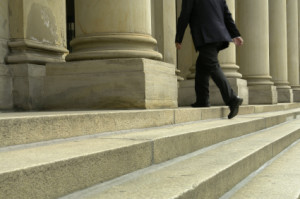 An increasing number of patients have begun to file IVC filter lawsuits in the federal court system against C.R. Bard and Cook Medical, claiming the devices have the potential to migrate. Plaintiffs claim when these small metal devices drift, they can puncture the vena cava and may cause small metal pieces to enter the lungs or heart.
An IVC filter is placed in the inferior vena cava to keep blood clots from traveling to the lungs. The device is situated right below the kidneys with the use of a catheter-like deployment device. IVC filters come in two forms — optionally retrievable and permanent. Retrievable filters should be removed when the physician determines the patient no longer requires protection from the blood clot risk and the device can be safely removed.
On May 6, 2014, the U.S. Food and Drug Administration issued an advisory recommending that physicians consider removing a patient's IVC filter as soon as they no longer require protection from blood clots. The agency noted that retrievable IVC filters are not always removed when the patient no longer needs the device. The FDA encourages physicians to follow-up with each patient and treat each person on a case-by-case basis.
Two MDLs established for IVC filter lawsuits
The U.S. Judicial Panel on Multidistrict Litigation has established two separate MDLs for lawsuits brought against C.R. Bard and Cook Medical. U.S. District Judge Richard L. Young in the Southern District of Indiana has been overseeing all Cook Celect and Cook Gunther Tulip IVC filter lawsuits since October 2014. U.S. District Judge David G. Campbell in the District of Arizona has been overseeing all Bard Recovery, Bard G2 and all other Bard IVC filter lawsuits since August 2015.
On December 15, the U.S. JPML released the latest case list indicating there are currently 172 claims pending in the Cook MDL and an additional 72 cases in the Bard MDL. The total number of lawsuits in the MDLs is expected to grow to several thousand.
Plaintiffs cite similar allegations
Each of the lawsuits include similar allegations that the IVF filters are unreasonably dangerous and do not contain proper warnings about the risk of complications and injury associated with the devices.
In a lawsuit filed on December 14, one woman claims she received a Bard G2 filter in January 2010, but started to experience burning and stabbing pains in her lower back and abdomen five years later in May 2015. According to her complaint, she had a CT scan and found that her device had migrated and broken, which was the root cause of her pain.
She was unable to have the IVC filter removed, because her doctor advised that she would need a "massive" surgery, because it punctured her aorta and potentially her duodenum.
The woman underwent the removal surgery in September 2015, but may require additional procedures in the future and currently needs extensive rehabilitation to avoid incurring another injury while her body recovers.
Judge Young has indicated that four Cook Medical cases will be chosen for bellwether trials after Sept. 15, 2016. The organizational structure has yet to be determined for the C.R. Bard MDL.