Cook IVC Filter Litigation Moves Toward Settlement Conferences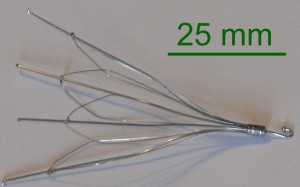 Hundreds of IVC filter lawsuits alleging defective design, misrepresentation in marketing, and failure to warn have been leveled against Cook Medical since 2013. The complaints center around problems with the company's inferior vena cava filters, small cage-like devices which are designed to prevent the development of a pulmonary embolism. Judge Richard L. Young, who is overseeing federal cases coordinated in the Southern District of Indiana, announced that a series of conferences will attempt to resolve Cook IVC filter claims, with an eye toward global settlements.
The settlement conferences were originally scheduled for February 16, 17 and 18 of this year, but these dates were pushed back to March 22-24, 2016. Cook Medical petitioned the court for another stay in the conferences, stating that their Settlement Counsel needed additional time to "investigate the cases within MDL 2570, review information regarding the underlying products, and confer with their clients."
Cook IVC filter claims contain similar allegations
All of the product liability complaints consolidated before Judge Young involve similar allegations regarding the Cook Gunther Tulip and Cook Select IVC filters. Plaintiffs contend that after being implanted with the spider-like devices, the filters tilted, migrated out of position, or punctured neighboring veins.
Other complications associated with IVC filters include:
Incidence of pulmonary embolism
Splintering of IVC filter
Chest pain
Blood vessels and internal organs perforated by IVC filter fragments
Excess fluid around the heart
Cardiac tamponade
Internal bleeding
Infection
Complications where physicians are unable to retrieve IVC filter
Since 2005, nearly 1,000 adverse event reports regarding Cook Gunther and Select IVC filters have been submitted to the FDA, triggering concerns about the safety of the devices. Health regulators at the agency have published two safety communications about the importance of removing retrievable vena cava filters, which can significantly reduce chances of life-threatening problems.
Device migration, fracture and perforating events are typically related to how long the filter has been implanted, cautioned the FDA in 2014. Patients who are implanted with retrievable filters for treating a short-term risk of pulmonary embolism are encouraged to have the devices removed once the risk subsides. Research has suggested that the "risk /benefit profile begins to favor removal of the IVC filter between 29 and 54 days after implantation."
Pending litigation against Cook Medical
Considerable evidence suggests that Cook Medical and other manufacturers of vena cava filters failed to properly warn patients and the medical community about potential side effects of IVC filters. Some federal lawsuits involving IVC filter complications have already been resolved, including at least two cases against C.R. Bard that were settled under confidential terms.
The first bellwether trials in MDL 2570 (Re: Cook Medical IVC Filters Marketing, sales practices and product liability litigation) are slated for August 2016 in the United States District Court for the Southern District of Indiana. If settlement conferences fail to yield results for a select group of cases, these early trials will set the tone for pending claims against Cook Medical.
Jury verdicts and mediated settlements generally take into account a number of factors, including the severity of the plaintiff's alleged injuries and disabilities, the impact on future earnings and the financial losses incurred through medical expenses and lost wages.