Manufacturers of Talcum Powder Products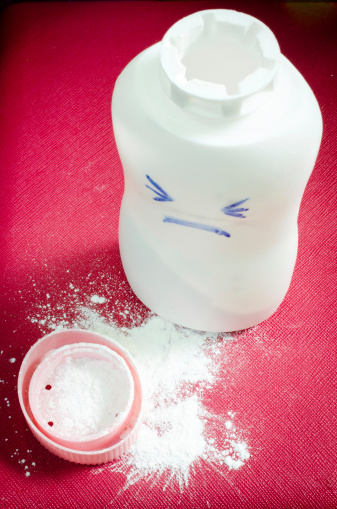 Talc-containing baby powder is almost as quaintly familiar as motherhood and apple pie. Johnson & Johnson's baby powder, the industry leader in talc and talcum powder products, is a common standby on infants' changing tables and as a staple in bathroom cabinets. Now, the product and its manufacturer(s) are coming under new, increased scrutiny for alleged ties between talcum powder and cancer, especially ovarian cancer.
Recent studies show that among women who used products containing talc or talcum powder for feminine hygiene purposes, risks of contracting ovarian cancer were as much as 30 percent higher. Now many of these same women are fighting back; armed with these studies and the support of reputable researchers who have spent years studying a suspected link between talcum powder and cancer, they are filing lawsuits against manufacturers of talcum products.
Manufacturers of talcum powder products—Johnson & Johnson
At the center of the controversy, as the prime target of the majority of pending and forthcoming talc cancer lawsuits, is Johnson & Johnson, a familiar household name for many Americans. The New Jersey-based manufacturer prides itself on being around since 1886, having invented (or at least taking credit for) such innovations as the Band Aid and disposable contact lens.
Now this longstanding reputation as a trusted American leader in pharmaceutical drugs and devices may be coming back to bite the company, since its baby powder and Shower-to-Shower feminine hygiene products are talc powder-containing top sellers—and therefore also a lightning rod in this latest public relations storm around talc and ovarian cancer.
The public controversy surrounding Johnson & Johnson comes in part because suspicions about the dangers of talcum powder and its carcinogenic effects have also been around for decades. In one recent lawsuit, for example, a South Dakota woman won an undisclosed settlement from a jury based on claims that talcum powder in Johnson & Johnson's Shower-to-Shower caused, over long-term use, her ovarian cancer.
More than 30 years of research by a Harvard epidemiologist suggesting talc particles traveling through the female reproductive system can cause prolonged inflammation of the ovaries, in turn giving rise to ovarian cancer cells, ultimately convinced the jury that this woman's use of Johnson & Johnson's product for perineal hygiene contributed to her cancer.
If such suspected links between talcum powder and cancer are not as old as Johnson & Johnson itself, they are old enough to warrant a renewed line of questioning about why the baby powder manufacturer has yet to display adequate warnings on its Baby Powder and Shower-to-Shower labels, acknowledging possible risks of ovarian and other cancers based on studies by reputable sources.
Other talcum powder manufacturers and products
Johnson & Johnson is not the only manufacturer implicated in this slew of new lawsuits alleging ties between talc and ovarian cancer. Over-the-counter cosmetic products containing talcum powder include products designed and distributed by a gamut of different manufacturers.
Talc manufacturers & products include:
Maybelline New York Expert Wear Blush
N.Y.C. New York Color Cheek Glow Powder Blush
NARS Blush
Physician's Formula Shimmer Strips Custom Eye Enhancing Shadow & Liner
Black Radiance Eyeshadow Quartet
Stilla Eye Shadow Trio
Dior 5-Colour Iridescent Eyeshadow
Black Opal True Color Liquid Foundation
Laura Mercier Foundation Powder
LA Colors Pressed Powder
Revlon Color Stay Pressed Powder
Cover Girl TruBlend Mineral Loose Mineral Powder
Physician's Formula Summer Eclipse Bronzing & Shimmery Face Powder
Wet n' Wild Bronzer
Iman Luxury Pressed Powder
Coty Air Spun Loose Face Powder
Black Opal Color Fusion Powder
Black Radiance Pressed Powder
Posner Finishing Touch Pressed Powder
N.Y.C. New York Color Loose Face Powder
Almay Nearly Naked Loose Powder
Clinique Stay Matte Sheer Pressed Powder
BeneFit Hello Flawless Custom Powder Cover-Up for Face SPF 15
Smashbox Fusion Soft Lights Intermix Pressed Powder
Guerlain Meteorites Poudre de Perles Illuminating Perfecting Pressed Powder
Urban Decay Baked Bronzer
Similarly, baby powder products containing talc are not limited to Johnson & Johnson's leading brand.
Baby powder products containing talc include:
CVS Brand Baby Powder
Rite Aid Baby Powder
Anti Monkey Butt Powder
Assured Shower & Bath Absorbent Body Powder
Angel of Mine Baby Powder
Family Dollar Mild Baby Powder
Shower to Shower Morning Fresh Absorbent Body Powder
Allegations made in Johnson & Johnson baby powder lawsuits
Plaintiffs with ovarian cancer who say their condition can be traced back to their habitual use of Johnson & Johnson's baby powder and/or other talcum powder products allege some or all of the following:
That Johnson & Johnson showed negligence in marketing a product with known carcinogenic effects and that J&J knowingly marketed a dangerous product to consumers
That if Johnson & Johnson had placed adequate warnings on their talcum powder products, stating a possible link between talc and cancer, they would not have used the products
That their ovarian cancer is the direct result of using talcum powder products
That via electron microscopes their ovarian cancer can be linked to trace amounts of talc found in surrounding tissue in the ovaries and reproductive organs
Pending litigation against J&J and other talc powder manufacturers
So far class action lawsuits in the states of South Dakota and Illinois are underway, with one lawsuit having seen a settlement in the amount of an undisclosed sum awarded to a South Dakota woman as a result of  her allegations against Johnson & Johnson.
In the meantime, researchers studying the link between talc, talcum powder and ovarian cancer are estimating that the mineral used as a calming agent in various baby and hygiene powders may be responsible for 10,000 new cases of ovarian cancer every year. If that is true, lawsuits against Johnson & Johnson and other manufacturers are only just beginning to roll into courtrooms, with the possibility of thousands more to come. Talcum powder attorneys are currently investigating claims of injured women to determine their eligibility for litigation.