Infuse Bone Graft Recall
On July 1, 2008, the FDA released a public health notification alerting healthcare practitioners of complications associated with the Medtronic INFUSE Bone Graft. A product used during some types of spinal surgery, it helps to encourage new bone growth.
The federal agency stated they had received 38 reports of complications over the previous four years when the graft was used during a cervical spine fusion procedure—a use for which it has not received FDA approval.
Since then, more reports have cited problems with the product, but to date, there has been no INFUSE Bone Graft recall. Some injured patients have filed lawsuits against Medtronic, claiming the company failed to provide adequate warnings about the health risks and manufactured defective medical devices.
What is the INFUSE Bone Graft?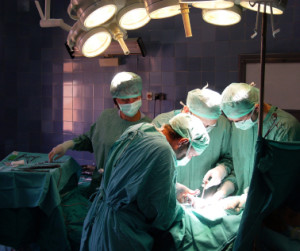 According to Medtronic's website, the INFUSE Bone Graft consists of two parts:
A natural protein that is found in everyone's body, called "rhBMP-2 (recombinant [engineered] human bone morphogenetic protein-2)
A natural carrier to deliver this protein (manufactured from cow type 1 collagen)
The protein is a genetically engineered form of that found naturally in the body, which helps regulate bone growth and healing. The collagen carrier helps release the protein over time, to help create a scaffold or framework where new bone can grow.
The FDA approved Medtronic's INFUSE Bone Graft/LT-Cage Lumbar Tapered Fusion Device on July 2, 2002. At that time it was cleared for use in the lower region of the spine only, to help treat degenerative disc disease. Using the graft eliminates the need for harvesting or removing bone from other areas of the body. Surgeons place the graft where new bone growth is needed, and the product helps attract the body's own bone-building cells to the site to gradually build new bone over time.
In 2004, the FDA also approved the use of the INFUSE Bone Graft System for the treatment of certain tibia (lower leg bone) fractures. So far, it has not been approved for any procedures in the cervical spine—though some doctors have used it for these surgeries.
What are the potential complications?
In its 2008 public health notification, the FDA noted that complications associated with off-label use of the INFUSE Bone Graft in cervical spine procedures included:
Swelling of the neck and throat tissue, resulting in compression of the airway and/or neurological structures in the neck
Difficulty swallowing, breathing, or speaking
Severe dysphagia (difficulty swallowing) following cervical spine fusion
The agency added, "Anatomical proximity of the cervical spine to airway structures in the body has contributed to the seriousness of the events reported and the need for emergency medical intervention." Most INFUSE bone graft problems occurred 2-14 days after the surgery, though scientists aren't yet sure how the product caused the problems. Treatment for the affected patients included intubation, anti-inflammatory medications, tracheotomy, and second surgeries to drain the surgical site.
In September 2008, the Wall Street Journal reported that an estimated half-million people undergo spinal-fusion procedures each year, and that the INFUSE Bone Graft had become a best seller for Medtronic, reaching estimated sales of about $815 million in the fiscal year ending April 2008. They added that at least three-quarters of the roughly 200 adverse events reported to the FDA involved off-label uses of the INFUSE Bone Graft.
Did Medtronic illegally market the product?
Lawsuits brought by former employees of Medtronic claimed that the company paid kickbacks to surgeons to use INFUSE. In 2006, Medtronic agreed to pay $40 million to settle two of the cases in Tennessee, though they admitted no wrongdoing. A third lawsuit alleged the company illegally marketed the product for off-label uses, paying doctors inflated consulting fees and royalty payments.
As early as 2004, it seems Medtronic was aware of certain issues with the INFUSE Bone Graft. That year, they sent spine doctors a letter saying they had received reports of soft-tissue swelling following the use of the product in cervical-spine fusions.
In a 2006 report in Spine, Dr. Christopher B. Shields noted that high-dose use of INFUSE created "a significant rate of complications." A total of 23 percent of patients had to stay in the hospital because of difficulty breathing or swallowing, or because of dramatic swelling.
Senators question Medtronic's ethics
In June 2011, the Wall Street Journal reported that the Senate Finance Committee was investigating "whether surgeons who received large sums of money from medical-device giant Medtronic Inc. for consulting and other work failed to note complications associated with a Medtronic bone-growth protein that has become widely used in spinal surgery [INFUSE]."
The inquiry was triggered by a study published in June 2011 in The Spine Journal. Researchers conducted a critical review of 13 industry-sponsored studies on the product and found that the actual risk of adverse events was 10 to 50 times greater than originally reported. They indicated that many of the authors of these studies had significant financial associations with Medtronic.
In August 2011, Medtronic announced a $2.5 million grant to Yale University to independently review the safety and effectiveness of the INFUSE Bone Graft. In June 2013, Yale published their findings in the Annals of Internal Medicine. Researchers concluded that a) there is little to no difference in effectiveness when comparing INFUSE to the older, traditional bone graft, and b) there is substantial evidence that the initial Medtronic INFUSE research was biased. The report also indicated that the INFUSE product was associated with a small increased risk of cancer after two years.
So far, the findings have not resulted in an INFUSE Bone Graft recall, though they may affect sales of the product. Medtronic has denied that it improperly influenced peer-reviewed reports or that it sought to underreport any side effects or risks associated with the product. In response to the Yale findings, Rick Kuntz, M.D., senior vice president and chief scientific, clinical and regulatory officer at Medtronic, stated, "The complex analyses laid out in the systematic reviews add to a better understanding of the benefits and risks outlined in our labeling for INFUSE Bone Graft, which guides the safe and effective use of the product for patients in FDA-approved indications."
According to a report in Reuters, in March 2012, Medtronic paid $85 million to settle a shareholder lawsuit alleging the company failed to reveal that as much as 85 percent of INFUSE sales depended on off-label uses.
INFUSE Bone Graft litigation
Patients who suffered injuries from from the product may be eligible to file an INFUSE bone graft lawsuit in an attempt to recover damages for medical expenses, lost income, pain, suffering and additional losses. Some individuals have already done so, claiming that INFUSE caused severe back pain and other injuries, resulting in permanent damage.