Fresenius Voluntarily Recalls Contaminated "Naturalyte" Lots
Fresenius Medical Care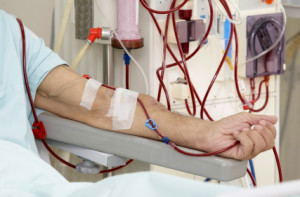 North America, a manufacturer of dialysis equipment and products, is initiating a voluntary recall involving 49 lots of NaturaLyte Bicarbonate Concentrate, which was distributed between August 15, 2013 and April 7, 2014. The company has acknowledged that these lots may contain higher levels of bacterial contamination than allowed by internal specifications.
2014 Naturalyte recall
Fresenius further stated that it is currently conducting testing to identify the organisms at issue, and that once testing is complete, the identity of the organisms will be provided. No related adverse events have been reported to date. The effects of the contamination could include long-range health consequences caused by exposure to the endotoxins, including hypotension, breathing difficulties, fever, and flushing, although these effects may only be temporary. A high bioburden in the dialysis concentrate may also lead to transient bacteremia (bacteria in the blood.)
2012 Fresenius dialysis recall
In March of 2012 two Fresenius products, Granuflo, a powder, and Naturalyte, a liquid, were the subject of an earlier recall by the Food and Drug Administration. At that time, the Naturalyte & Granuflo recall was allegedly prompted by an internal Fresenius memo, which was leaked to the FDA. The memo showed that Fresenius had conducted a study and evaluated 941 patients in 667 dialysis centers who suffered cardiopulmonary arrest during or following dialysis treatment.
The Fresenius study found the patients were six to eight times more likely to suffer heart attacks and sudden cardiac death if they had elevated bicarbonate levels.
Granuflo contains ingredients that the body converts to bicarbonate, and contains more of this ingredient than rival products. The memo allegedly warned all Fresenius owned or operated dialysis centers as early as 2005 to adjust the settings on dialysis machines to offset inappropriately high bicarbonate levels caused by the two products in question. The memo was not shared with either the FDA or other non-Fresenius dialysis centers.
Fresenius dialysis lawsuits
More than 300 Granuflo & Naturalyte lawsuits have been filed against Fresenius regarding damages associated with the use of Granuflo and Naturalyte. In December of 2013 two new lawsuits were filed in federal court in Massachusetts by kidney dialysis patients and their families alleging that Fresenius products caused plaintiffs' heart attacks.
In one of the cases, the plaintiff claims Fresenius is responsible for the death of her husband immediately following his dialysis treatment at DaVita Forest Fair Dialysis in Cincinnati, Ohio on December 26, 2011. Plaintiff notes that Fresenius was instructing employees as early as 2008 to adjust dialysis machines to avoid dangerous bicarbonate levels caused by Fresenius products, yet fraudulently concealed the information from medical providers so that her husband could be adequately cared for.
In the second lawsuit filed in December of 2013, the plaintiff suffered a serious cardiac event during dialysis treatment at Fresenius Medical Care Cockrell Hill, in Dallas, Texas. The plaintiff claimed that she required emergency medical care and an extended stay in the hospital to recover from her injuries. She claims that neither she nor her health care providers were warned that the Fresenius products were dangerous when used as expected.
At least 145 cases have been consolidated and assigned to U.S. District Court judge Douglas Woodlock.