About GranuFlo & Naturalyte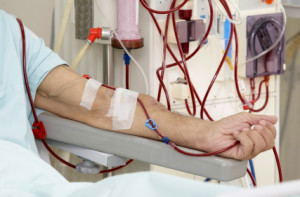 GranuFlo and NaturaLyte are acid concentrate products administered to dialysis patients who suffer chronic and acute kidney failure. For nearly a decade, almost half of America's 400,000 kidney disease sufferers have been treated with either GranuFlo or NaturaLyte, but there is growing concern surrounding the risk of heart attack associated with the dialysates. Medical experts say the danger stems from an excess of bicarbonate, which can lead to an elevated pH level in the body, known as metabolic alkalosis. The condition causes low blood pressure, cardiac arrhythmia, cardiac arrest, hypokalemia (dangerously low potassium levels), hypoxemia (low oxygen in then blood), hypercapnia (increase carbon dioxide in the blood) and can result in death. The controversy surrounding GranuFlo and NaturaLyte along with the ensuing FDA recall has prompted a number of lawsuits against manufacturer Fresenius Medical Care.
How dialysis works
Dialysis has been successfully used to treat kidney disease since 1945. It works by imitating the function of a healthy kidney, filtering waste and excess fluid from the blood through the use of dialysates, which are a combination of water and chemicals specifically designed to remove toxins while leaving vital proteins and blood cells in the system.
Two types of dialysis: hemodialysis and peritoneal dialysis
In hemodialysis, an artificial kidney (called a hemodialyzer) reroutes the blood through a catheter, flushing it of waste, fluid and unwanted chemicals. It is usually performed several times a week, lasting three to four hours each time.
In peritoneal dialysis, the blood stays inside the body. A catheter is inserted into the abdomen, slowly filling it with a dialysate. This option is often preferable as it can be performed at home.
GranuFlo and NaturaLyte are both commonly used in hemodialysis, performed in dialysis treatment centers all over the United States.
Fresenius Medical Care
According to their own website, Fresenius Medical Care is 'the world's largest integrated provider of products and services for individuals undergoing dialysis because of chronic kidney failure.' They claim to 'define highest standards' for dialysis treatment.
The company, which is based in Germany, received FDA approval for the manufacture and marketing of GranuFlo in 2003. In 2011, they reported a net revenue of $12.8 billion. In addition to their own treatment centers, Fresenius is the leading supplier of dialysis machines and dialysates to other clinics.
FDA warning: Granuflo & Naturalyte Side Effects
As detailed in a New York Times article from June 2012, Fresenius is the subject of an investigation into their failure to warn customers about the serious risks posed by GranuFlo and NaturaLyte. The report revealed that Fresenius had issued an internal memo to its clinics on November 4, 2011, stating that 941 hemodialysis patients from 667 facilities had suffered cardiac arrest during 2010. The company conducted an analysis comparing the patients to 80,000 others in the same centers. The memo highlighted dosing errors and outlined instructions for  doctors, indicating that improper amounts of either GranuFlo or NaturaLyte could increase the risk of cardiac arrest by six to eight times during treatment.
However, Fresenius failed to alert the health care providers of other clinics to whom they supply GranuFlo and NaturaLyte. They also failed to notify the public or the FDA about their findings. The FDA received an anonymous tip about the memo, prompting an inquiry. In May 2012, the FDA issued a Safety Communication regarding dosing errors for both dialysis additives.
Metabolic alkalosis
The condition under scrutiny is called metabolic alkalosis, which occurs when bodily fluids have an excess of alkali. The delicate pH balance in the body is usually maintained by healthy kidneys and lungs, which regulate the production of acids and alkalis. A decrease in carbon dioxide (which is an acid) or an increase in bicarbonate (an alkali) causes the onset of metabolic alkalosis. Symptoms include confusion, hand tremors, light-headedness, muscle twitching, nausea and vomiting, numbness in the extremities and prolonged muscle spasms.
GranuFlo and NaturaLyte Recall
The FDA's inquiry prompted the release of a two-page Urgent Product Notification for the benefit of non-Fresenius clinics. The document alerted them to the dangers of using these products, and was followed by a Class I recall of GranuFlo and NaturaLyte on March 29, 2012 for both Fresenius products.
A Class I recall is the most serious kind, and indicates a risk of adverse reactions, including heart attack and death. Although it doesn't require the removal of dialysates from clinics, it advises proper dosing protocols and demands label updates. The FDA also recommends that physicians be made aware of the disparity between concentrations in differing dialysate products.
GranuFlo and NaturaLyte lawsuits
Owing to the increased publicity surrounding the risk of heart attack and other health complications, more patients and people who have lost loved ones after using GranuFlo and NaturaLyte are coming forward to file lawsuits against Fresenius Medical Care. The lawsuits allege patients were not adequately warned about the dangers associated with the dialysis products and that Fresenius displayed a conscious disregard for the safety of the public.
An Alabama woman whose husband died of a heart attack after receiving treatment at a Fresenius clinic filed a wrongful death claim against the company. Another woman died following dialysis treatment in Illinois. She passed away in March 2009 after being taken off life support. That GranuFlo lawsuit alleged that the woman suffered 'massive blood loss as a result of hemorrhage from the dialysis circuit during dialysis treatment at the center'. Her five children reached a seven figure settlement with Fresenius Medical Care. More lawsuits are expected to emerge over the coming months.