Fresenius Medical Care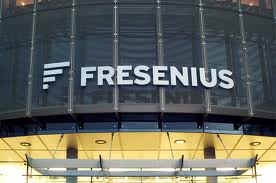 Fresenius Medical Care is a leading medical service and supplies provider, focused mainly on products used for kidney (renal) dialysis. Based in Germany, Fresenius manufactures dialysis products and machines, which it then ships to; dialysis centers, nursing homes, and other medical care facilities throughout the world. Fresenius is also the biggest operator of dialysis centers in the United States, treating up to one-third of the country's approximately 400,000 dialysis patients.
Hemodialysis is a common treatment for acute and chronic kidney disease, usually prescribed when more conservative treatments have proven insufficient. Dialysis attempts to replicate normal kidney function by filtering waste and removing extra fluids and electrolytes from the body. Patients are connected to a hemodialysis machine, after which blood is removed from the body. A dialysate cycles through the dialysis machine to remove waste products from the blood. Once the waste is removed, the blood is then returned to the body.
Devices manufactured by Fresenius Medical Care to treat End Stage Renal Disease (ESRD):
Hemodialysis machines
Peritoneal dialysis machines
Granuflo Concentrate mixing tanks
Crit-line monitoring device
Fresenius also manufactures dialysates, which are chemical fluids or solutions used in the dialysis machine to remove toxins from, and supply electrolytes to, the blood before it is returned to the patient's body. Two such dialysates designed and manufactured by Fresenius are GranuFlo and Naturalyte, both of which are acid concentrates used to control acid buildup in the blood during dialysis. NaturaLyte is the liquid form of the concentrate (4.0 mEq/L of acetate); GranuFlo is the powder form (8.0 mEq/L of acetate).
After years of reports from patients and doctors to the Food and Drug Administration (FDA) about dangerous dialysis side effects linked to the use of Granuflo and Naturalyte, the acid concentrates were officially recalled from the market in 2012.
Prior to the recall, the FDA had anonymously received an internal memo circulated amongst Fresenius' dialysis centers indicating that the company was aware of a sharp increase of death by cardiac arrest in patients treated with Naturalyte and Granuflo. At the time, the company failed to communicate this information to the medical community, the FDA, or consumers, putting untold numbers of patients at risk.
What are GranuFlo and Naturalyte used for?
Many patients who suffer from kidney disease also suffer from another dialysis side effect called metabolic acidosis, a condition where an excess of acid builds up in the body because malfunctioning kidneys fail to remove it. Hemodialysis works to equalize the body's acid levels using a bicarbonate dialysate that neutralizes metabolic acidosis.
Renal damage also negatively impacts the body's ability to produce electrolytes (calcium and magnesium, for instance), so dialysis re-introduces electrolytes into the blood. However, when bicarbonates are combined with electrolytes like calcium and magnesium, they react to form a substance that the blood struggles to absorb. To allow for maximum absorption, a further solution—an acid concentrate such as Granuflo and/or Naturalyte—may accompany the dialysate.
Acid concentrates like GranuFlo and Naturalyte raise bicarbonate levels in the blood, and must be carefully dosed during the dialysis process to avoid serious injury to the patient. Improper dosing raises the risk for serious Naturalyte and Granuflo side effects.
Side effects of Granuflo and Naturalyte include:
Extreme low blood pressure
Metabolic alkalosis (excess of bicarbonate in the blood)
Electrolyte imbalances
Hypokalemia
Hypoxemia
Coma
Cardiac arrhythmia
Cardiac arrest
Stroke
Dialysis side effects
Even when hemodialysis is properly administered, it can cause side effects in some patients.
Some commonly reported complications stemming from dialysis include:
Low blood pressure
Fatigue
Chest pains
Leg cramps
Nausea
Headache
More serious, and rare, dialysis side effects include:
Sepsis
Heart valve infection
Bone decay
Neuropathy
Heart disease
Fresenius dialysis product recall: timeline of events
1981: The FDA gives approval to Fresenius Medical Care to market and distribute the first formulation of its dialysis acid concentrate NaturaLyte (9000 Series).
1994: The first formulation of GranuFlo is approved by the FDA.
2003: A modified version of Granuflo, utilizing a new non-granulated formula, is cleared for the U.S. market through the FDA's 510(k) "fast track" process, which allows products determined to be "substantially equivalent" to pre-approved substances to reach consumers without rigorous pre-market testing.
2007: A modified version of NaturaLyte is cleared for the market with 510(k) clearance.
2010: Fresenius investigates adverse dialysis outcomes in in over 600 of its treatment centers across the country. The study focused on risk factors in dialysis patients who suffered from cardiopulmonary arrest. Data from the study showed that dialysis patients treated with Granuflo and Naturalyte were at a 6 to 8 times greater risk of cardiac arrest and cardiac death.
2011: An internal memo is sent from Fresenius Medical Care to its own dialysis centers reporting these findings, and recommending that doctors administering dialysis adjust the levels Granuflo and Naturalyte to avoid excess biacarbonate in the blood and the consequent increased risk of heart attack and death. The memo is sent only to Fresenius employees, and not to the FDA or the medical community at large.
 2012: The internal Fresenius memo is leaked to the FDA by an anonymous source.
March 29, 2012: A Class I Naturalyte and Granuflo recall is initiated by the FDA because of "serious adverse health consequences, including death."
Naturalyte and GranuFlo recall
According to the FDA, "Class I recalls are the most serious type of recall and involve situations in which there is a reasonable probability that use of these products will cause serious adverse health consequences or death." The FDA also indicated that the specific formulations of Granuflo and Naturalyte that were subject to the recall had been manufactured by Fresenius Medical Care from January 2008 to June 2012.
Fresenius dialysis litigation
A growing number of dialysis patients injured by dialysis side effects as well as over-dosing of Granuflo and Naturalyte, including surviving family members of deceased patients, have filed lawsuits against Fresenius Medical Care. Plaintiffs claim that Fresenius knowingly withheld the serious health risks associated with Granuflo and Naturalyte from the public and the medical community, and continued to market, promote, and sell the dialysis products despite knowing of the significantly increased risk of cardiac arrest and death.
On March 29, 2013, exactly one year after the Granuflo recall, a federal panel of judges approved the consolidation of Naturalyte and Granuflo lawsuits into multidistrict litigation (MDL). All pending and future Fresenius dialysis litigation filed in federal courts will be transferred to a single District Court in Massachusetts to have their pre-trial procedures overseen by Judge Douglas P. Woodlock.
MDL Granuflo lawsuit plaintiffs seek damages for medical costs associated with their injuries, lost wages, diminished quality of life, as well as pain and suffering. They may also seek punitive damages to punish Fresenius Medical Care for not acting in the interest of public consumers.