Granuflo Dialysis Lawsuits Continue to Emerge in Federal District Court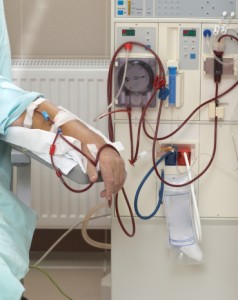 On November 17, 2014, the U.S. Judicial Panel on Multidistrict Litigation (JPML) published its regular report, including data regarding the Granuflo dialysis lawsuits consolidated before U.S. District Judge Douglas P. Woodlock. According to the report, there are now 2,221 cases filed against Granuflo manufacturer Fresenius alleging similar claims of injury following unexpected cardiac arrest during dialysis treatments. For years, Fresenius has denied any knowledge of awareness of problems with its Granuflo product, however thousands of plaintiffs have alleged to the contrary.
Dangerous drug cases centralized under multi-district litigation (MDL) rules are closely monitored by the JPML. Among other things, the JPML is responsible for publishing regular reports detailing all ongoing MDL cases, the number of new individual lawsuits added, and the total number of lawsuits awaiting settlement or verdict against a single defendant.
Assertions against Fresenius
Fresenius Medical Care is a global manufacturer of products used in the administration of kidney dialysis treatments. Kidney dialysis is a procedure wherein a patient's blood is filtered through a machine designed to mimic the kidneys by cleansing the blood of harmful toxins and waste. One component of the dialysis process is the introduction of a dialysis solution used to help balance the pH levels of the blood and remove excess salts and fluids. In Fresenius machines, the dialysis solution is known as Granuflo – and has caused significant problems for hundreds of hemodialysis patients across the U.S.
According to allegations, Granuflo solutions manufactured by Fresenius contained higher-than-normal levels of sodium bicarbonate – a necessary, but potentially dangerous, component of the dialysis solution. Upon introduction into the bloodstream, this solution caused many patients to experience cardiac arrest, requiring immediate medical intervention and debilitating pain.
Fresenius may have known about the problem
As early as 2010, close to 1,000 hemodialysis patients reported experiencing cardiac arrest during their dialysis session. Accordingly, Fresenius circulated an internal email about the problem, citing the existence of 941 known cases of sudden heart problems during Granuflo and/or Naturalyte treatment. Nonetheless, the company failed to issue a recall, inform the Food and Drug Administration, or issue warnings to patients undergoing dialysis treatments.
In 2011, Fresenius issued a warning to nephrologists and other healthcare professionals working in Fresenius dialysis clinics as to the potential for problems with the Granuflo product, encouraging close monitoring of patients during the hemodialysis process. However, Fresenius failed to issue similar warnings to other dialysis centers using the Granuflo solution, thereby placing patients in additional, unnecessary danger.
At the crux of plaintiffs' cases is the contention that Fresenius absolutely knew about the high bicarbonate levels in its Granuflo solutions and failed to issue adequate warnings to patients and healthcare providers. Not until 2012, at least two years after the problem surfaced, did Fresenius issue a warning to the FDA about the problem.
In addition to the 2,221 cases pending before Judge Woodlock in the U.S. District Court for the District of Massachusetts, hundreds of other lawsuits alleging Granuflo side effects are pending in various Massachusetts state courts.
The first Bellwether trial is set for January, 2016.