New Granuflo Lawsuit Alleges Dialysis Product Led to Heart Attack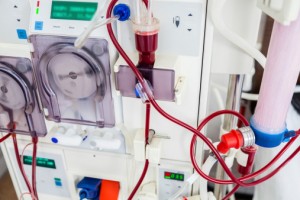 A plaintiff who has added his Granuflo lawsuit to the growing multidistrict litigation currently underway in Massachusetts alleges that use of Granuflo or Naturalyte during his dialysis treatment led to a heart attack at a Fresenius clinic. The plaintiff links his injuries, which occurred in 2012, directly to use of these products, also manufactured by Fresenius and subject to a Class I recall by the FDA that same year.
This recent complaint was filed by California resident Lee Greeneagle on April 1, 2015. Greeneagle filed his short-form complaint, indicating he was incorporating the master complaint and jury demand for MDL 2428, involving Fresenius products Granuflo and Naturalyte. Like others in the coordinated proceedings, Greeneagle is alleging he was unaware of the risks associated with these dialysis products, including heart arrhythmias, heart attack and death.
Granuflo use allegedly led to heart attack
According to the complaint, Greeneagle suffered his injuries on November 2, 2012. The FDA issued the Class I recall of Fresenius products Granuflo and Naturalyte on March 29, 2012. While the FDA did not take the products off the market, the agency did warn dialysis providers to use extra caution when mixing the formulations, since incorrect mixing could lead to a higher risk of cardiac arrhythmias and other complications. Class I recalls are recognized as the most serious type of recall, indicating the product in question could lead to serious injury or death.
Naturalyte and Granuflo are products used during dialysis treatment to cleanse the blood and maintain healthy pH levels. However, the unique formulation of these products requires careful measuring and monitoring. Incorrect mixing can lead to elevated bicarbonate levels in the bloodstream, which can result in elevated pH levels, a condition known as metabolic acidosis. Left unchecked, metabolic acidosis can lead to low blood pressure, heart arrhythmias, cardiac arrest and death.
Reports of injuries received by company
At the same time Fresenius was reporting large profits from the company's dialysis products, it was also receiving disturbing reports that the formulas could lead to heart attack risks if they were not mixed correctly. In November 2011, the company sent an internal memo to Fresenius clinics, warning of the dangers associated with Granuflo. However, the company failed to notify the clinics not owned by Fresenius that were using the Granuflo and Naturalyte products, leaving thousands of dialysis patients unknowingly vulnerable to injury.
In March 2012, the FDA received an anonymous tip from an insider at Fresenius involving the internal email. The FDA immediately launched an investigation and by the end of that month, they had issued a recall for both Granuflo and Naturalyte. At that time, the FDA required label updates to the products and warned dialysis providers of the differences between dosing of these products and other dialysis formulations.
Granuflo lawsuit number continues to increase
Now, patients that have been injured by the dialysis products, or lost loved ones as a result of complications linked to Granuflo or Naturalyte, have filed lawsuits against the company. Like Greeneagle, they are seeking damages for medical expenses, lost wages and non-economic losses. Plaintiffs have listed numerous counts against Fresenius Medical Care, including breach of warranty, failure to warn, product liability and fraud.