Effexor Lawsuit
The FDA first approved Effexor (venlafaxine), a prescription drug marketed by Wyeth Pharmaceuticals (now Pfizer) in 1993, more than 20 years ago. The popular antidepressant belongs to the serotonin-norepinephrine reuptake inhibitor (SNRI) drug class, and has long been marketed as a safe and effective means to treat depression, anxiety and major depressive disorder (MDD). By 2007, the antidepressant had become one of the most popular drugs in the United States: that year, 17.2 million prescriptions were written for Effexor, making it the sixth-most prescribed antidepressant in the country.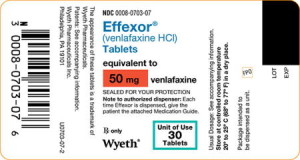 Despite its popularity, Effexor was linked with serious side effects. The FDA attached a black box warning for suicidal thoughts, and venlafaxine was also known to cause sexual dysfunction, serotonin syndrome, and discontinuation syndrome. Though it had been marketed as safe for pregnant women, Effexor was also linked to serious and even life-threatening birth defects. As a result, many affected families filed an Effexor lawsuit to recover damages for expensive medical bills associated with their children's birth defects.
Pregnancy risks and birth defects linked to Effexor
Antidepressants have a long history of pregnancy risks, requiring women and their doctors to think very carefully before recommending a medication for use while trying to get pregnant or during pregnancy.
Initially, women were made to believe Effexor was safe during pre-conception and pregnancy. The first major warning was made public in 2006, when the FDA required all SNRI antidepressants to carry a warning about persistent pulmonary hypertension of the newborn (PPHN), a heart-related defect. In 2012, a study published in the Canadian Medical Association Journal suggested that Effexor could double a woman's risk of spontaneous miscarriage. The study emphasized that venlafaxine should only be used during pregnancy when strictly necessary, and no other, safer alternatives exist.
Effexor lawsuits also cite other associated pregnancy risks and birth defects, including:
Aortic stenosis
Atrial or ventricular septal defects
Club foot
Craniosynostosis
Gastroschisis
Heart murmurs
Omphalocele
Persistent pulmonary hypertension of the newborn (PPHN)
Pulmonary stenosis
Spina bifida
Spontaneous miscarriage
Valve malformations and other heart and lung defects
Multidistrict litigation (MDL) and class action lawsuits
In April 2013, a request was filed with the U.S. Panel on Multidistrict Litigation (JPML) to consolidate qualifying Effexor lawsuit actions into multidistrict litigation (MDL). At the time, at least 14 lawsuits were pending in courts across the nation, and this number is expected to grow.
Multidistrict litigation is a special type of consolidated litigation common in dangerous drug lawsuits. An Effexor MDL would bring together individual plaintiffs from around the United States, consolidating their cases into one federal court. An MDL allows plaintiffs to share resources and consolidate pre-trial processes, like discovery, and also avoids contradictory rulings across different courts. However, once the pre-trial preparations are ready, each individual case is remanded back to its original court for trial. The first MDL lawsuits to go to court are known as bellwether trials, and often set the tone for other cases to come. Nevertheless, every plaintiff retains his or her right to a trial, mediation, and settlement.
A class action lawsuit, on the other hand, lumps plaintiffs together into one homogenous group. One or several representatives stand for all plaintiffs, and the verdict for one is the verdict for all. Because of the individual nature of Effexor lawsuit filings, a centralized MDL may be more likely than a class action.
Common allegations in an Effexor lawsuit
Families who have suffered from Effexor side effects, and especially birth defects, often bring similar claims.
Effexor lawsuit allegations include, but are not limited to:
That Wyeth (now Pfizer) failed to warn the public or the medical community about severe health risks;
That Wyeth exhibited negligence in conducting clinical drug safety trials;
That Wyeth committed breach of express and implied warranties;
That Wyeth is liable for wrongful death;
That Wyeth has committed fraud;
That Wyeth is liable for defective manufacturing and design; and
That Wyeth is liable for strict liability
Effexor lawsuits involve a range of injuries, including:
Women who gave birth to children with birth defects;
Patients who experienced suicidal thoughts;
Surviving family members of patients who committed suicide;
Patients who exhibited violence toward others or themselves;
Patients who experienced discontinuation syndrome (withdrawal symptoms); and
Children who experience adverse side effects
Noteworthy Effexor lawsuit plaintiffs
In defective drug lawsuits, all plaintiffs are notable – each person's pain and suffering is unique, and worthy of compassion. Here are a few plaintiffs whose allegations represent those of other Effexor lawsuits:
Glenn and Lauren Boyer: A couple whose infant daughter, Adelaide, was born in February 2010 with lethal heart defects, including a severe left hypoplastic heart, a malformed aorta, no aortic valve, and a malformed mitral valve.
The Schultz Family: Matthew Schultz was born in 2010 with alleged Effexor birth defects. On their blog, the Schultz family wrote of their doctor, who had looked up Effexor and pregnancy risks: "He didn't find any warnings for pregnancy problems… Looking at [the side effects book] after losing Matthew though, he read it with his eyes open. In tiny print is a warning. But it is quite vague."
Christian Delahunty: Gave birth after taking Effexor during pregnancy. Her daughter, Indiana, was labeled an "Effexor baby" and died six weeks after birth, when she stopped breathing.
How can an Effexor lawyer help?
For those who took Effexor during your pregnancy and gave birth to a child with a birth defect, Effexor lawyers are currently offering free case evaluations. An experienced trial attorney is an invaluable resource in product liability litigation filed against major pharmaceutical manufacturers who make formidable opponents.
Plaintiffs typically allege that Effexor is liked to serious birth defects such as cleft palates, respiratory distress, anencephaly, pulmonary hypertension, craniosynstosis and omphalocele when taken during pregnancy. In order to recover damages for these types of injuries, an Effexor attorney must work diligently to prove that the medication is the direct and proximate cause of the precise injuries claimed.
A well-informed Effexor lawyer will have reviewed all prior settlements and court trials to date, which may influence the strategy and outcome of your pending case.
Wyeth, the manufacturer of Effexor, was reportedly generating $958 million in annual sales, so the pharmaceutical company has substantial financial resources with which to defend themselves. However, a good Effexor lawyer will diligently challenge that defense by exposing wrongdoing such as any FDA statements discussing the company's misleading advertisements, as well as alleged evidence of additional company misconduct, and inadequate, or lack of, clinical drug studies.