Paxil Lawsuit
Thousands of people who took the antidepressant Paxil later filed a lawsuit against the manufacturer, GlaxoSmithKline (GSK). Plaintiffs typically claim that GSK failed to provide adequate warnings about Paxil side effects, which include birth defects, withdrawal problems and suicidal tendencies.
The first Paxil lawsuit was filed in 2001, and on September 14, 2009, the first case went to trial in Philadelphia's Common Pleas Court. Plaintiff Michelle David and her young son Lyam Kilker sued GSK for failing to warn about Paxil-related birth defects. Lyam was born with severe heart malformations that his mother believed were caused by her ingestion of Paxil during pregnancy. The boy had to undergo multiple open-heart surgeries within six months of his birth to correct the problems.
The jury determined that GSK had been negligent in their warnings, and awarded the Kilker family $2.5 million. Since then, the company has paid out billions in Paxil lawsuit settlements.
Common allegations in a Paxil lawsuit
Plaintiffs who file a Paxil lawsuit typically bring the following types of claims:
Failure to warn about health risks
Negligence in conducting clinical trials to determine drug safety
Breach of warranties
Wrongful death
Fraud
Defective manufacturing and design
Strict liability
These claims are usually filed in association with injuries including:
SSRI birth defects in children whose mothers took Paxil
Suicide attempts and completed suicides
Violence toward self and others (murder and suicide combinations)
Withdrawal symptoms
Adverse side effects in children
Plaintiffs hire a lawyer because they often feel they were misled about the scope and risk of Paxil side effects. Expectant mothers, for instance, often say that had GSK warned about potential birth defects, they never would have agreed to take the medication while pregnant. Parents of young children who took the medication for depression or anxiety disorders also claim that had the company alerted them to the link between antidepressants and suicide, they would have chosen a safer alternative.
In addition, plaintiffs feel that GSK had a responsibility to thoroughly test and screen Paxil in the populations that would be taking it to ensure public safety before launching the drug on U.S. markets. Instead, it was only after the product had already been sold to millions of users that doctors and patients slowly became aware of the health risks.
Federal Paxil lawsuits consolidated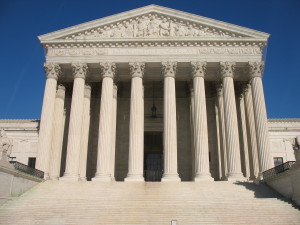 On December 19, 2003, the U.S. Judicial Panel on Multidistrict Litigation (JPML) consolidated all federal Paxil lawsuits claiming withdrawal injuries in the Central District of California in Los Angeles. At the time, there were about 1,500 Paxil withdrawal lawsuits in over 30 states that would come together in the new MDL for pre-trial proceedings.
When many different cases share common questions of fact and bring claims against the same company, an MDL brings them all together in one court under the guidance of one federal judge. This helps increase the efficiency of handling pre-trial proceedings such as discovery and deposition. A small group of attorneys are selected to represent each side, and the judge decides on things like what evidence is admissible, avoiding inconsistent rulings and saving judicial resources.
Multidistrict litigation is different from a class action suit, however, in that each Paxil lawsuit is considered on an individual basis. In a class action case, many plaintiffs are represented by one or by a small group, and the case is tried as a single lawsuit. Any jury award or settlement is split among all the members of the class action.
An MDL coordinates all pre-trial proceedings, and sometimes facilitates the negotiation of settlements, but if the two sides can't come to an agreement, each Paxil lawsuit goes back to its original court for trial. Some may be included in MDL "bellwether" trials, which are like test trials that can provide clues as to how juries may react to the evidence.
According to a 2008 annual report, GSK officials stated they reached a conditional settlement agreement with all plaintiffs in the Paxil withdrawal MDL. Estimates were that each case was settled for an average of $50,000, resolving about 3,200 cases total.
Paxil suicide lawsuits
The first Paxil lawsuit involving suicide that went to trial in the U.S. involved an adult patient who killed his wife, daughter, and granddaughter before taking his own life. According to the family's Paxil lawyer, the man had taken the drug for two days prior to the incident. The case was tried in Cheyenne, Wyoming, and resulted in an $8 million verdict in June 2001. After this trial, it was estimated that GSK paid over $390 million in Paxil-related suicide settlements or verdicts.
GSK was also involved in class action lawsuits regarding Paxil and suicide. In April 2007, consumer watchdog Public Citizen secured a $63.8 million settlement in a class action lawsuit alleging the company had misled parents by failing to warn that Paxil was dangerous and ineffective when taken by children younger than 18.
In 2008, GSK agreed to another class action settlement—this one for $40 million. The lawsuit alleged that the medication was ineffective and increased suicidal thoughts and actions in children. The money went to health insurance companies that paid for the drug.
Paxil birth defects lawsuit settlements
In 2005, the Food and Drug Administration (FDA) released a public health advisory warning patients and physicians of the potential for Paxil to increase the risk of birth defects. Like other FDA warnings about antidepressants, this safety notice alerted consumers about heart defects. Later, Paxil became associated with:
cranial defects
abdominal defects
club foot
cleft lip and/or palate
malformations
persistent pulmonary hypertension of the newborn (PPHN)
spina bifida
After the landmark 2009 trial in which the plaintiff was awarded $2.5 million in damages for Paxil birth defects, GSK negotiated settlements in hundreds of other cases. In July 2010, the company agreed to settlements in about 800 other cases, with an average of about $1.2 million per case.
Other GSK lawsuits
In addition to the Paxil side effects lawsuits, GSK has also been involved in other litigation with the U.S. government.
In 2003 they agreed to pay $87.6 million to settle civil charges brought by the Department of Justice. The company was accused of overcharging Medicaid for Paxil and another medical drug.
In 2004, GSK agreed to a $2.5 million settlement with the State of New York, which accused the company of "persistent fraud" in suppressing research on Paxil and suicidal thoughts and actions in children.
In 2011, GSK agreed to an over $3 million settlement in a lawsuit with the Department of Justice to resolve questions that they had marketed some drugs illegally and defrauded the Medicaid program.
How can a Paxil lawyer help?
An experienced Paxil lawyer can help determine if you have a strong case, and guide you through the complexities of filing pharmaceutical litigation. Since product liability attorneys typically only get paid for cases they win, the law firm will only take you on as a client if they believe the evidence is sufficient to secure compensation for you and your family. Though on the surface your case may seem similar to hundreds or even thousands of other lawsuits that have been filed, each case is judged on its own merit, and unexpected contingencies may impact the outcome of your case in ways that only an experienced attorney can anticipate. For instance, a case may never reach the courts if it was filed after the state's statute of limitation has run out, or the case may be lost in court if the mother of an injured child was taking additional prescription medications during her pregnancy.
Once a Paxil lawyer takes your case, he or she can help you gather pertinent evidence to expose GlaxoSmithKline's negligence. The jury awards and/or settlements tend to be larger when a plaintiff's Paxil attorney  clearly demonstrates that the defendant knew of the risks associated with their product, but made the choice to keep selling, marketing, and manufacturing the drug anyway.
In a recent trial, a plaintiff's lawyer showed that the company had received 50 reports of miscarriage or intrauterine death related to Paxil by 1997. Internal memos show that GlaxoSmithKline's own scientists called the number of cases an "alarming finding," but they did not include these facts in the report they submitted to the FDA – even though they were required to do so. Another memo was submitted as evidence in court that said if the company had to conduct animal studies it could "bury" negative results. Concrete evidence of wrongdoing such as this has helped Paxil lawyers negotiate settlements in the millions for their clients.
If you believe you or your child has been injured by Paxil, contact a qualified product liability lawyer to evaluate the strength of your case, learn about the pros and cons of filing litigation, and to see if a lawsuit is the right choice for you and your family.