Knee Replacement Complications
Knee replacement surgery is now regarded as a routine procedure, with nearly three quarters of a million operations performed annually. Recipients of knee replacement implants range from people involved in high-impact contact sports to arthritis-sufferers. Although the surgical techniques have come a long way, there are still numerous potential knee replacement complications that anyone undergoing the surgery should be aware of.
First, there are risks inherent in any form of invasive surgery. Going under a general anasthetic presents its own risks, and remaining immobile during the recovery period can lead to blood clots. Other risks relate directly to trauma caused by the prosthesis. These risks are especially pronounced in some of the recent high-profile knee implants that were rushed to market without being rigorously tested.
Knee replacement problems
Typical knee replacement complications include:
Loosening or fracture of the components
Bone fracture
Swelling
Joint pain or dislocation
Component breakdown
Metallosis (metal poisoning)
Loosening is one of the most common knee replacement complications. It occurs when the components of the implant separate from the bone, resulting in soft tissue growing in between the device and the bone. This can cause instability and pain.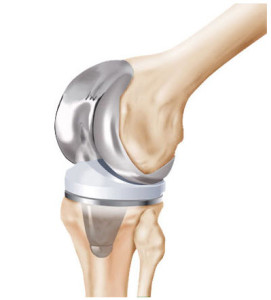 Although a degree of loosening is expected over time, surgeons expect most implants to remain fixed in place for several years. Some devices, like Zimmer's NexGen Knee models, have been linked to premature loosening in some patients, which may require revision surgery long before the expected replacement date for the implant. The NexGen CR-Flex knee model was, according to Zimmer, designed to promote fusion between the bone and the device.
Knee replacement problems, when they do occur, range from the mild to the severe. When ligaments are cut or damaged during surgery, the knee can become unstable, and may move from side to side. This often improves over time, but can require a brace to be fitted to prevent buckling.
Athrofibrosis – also known as joint stiffness – is one of the most common knee replacement complications, and is particularly pronounced in patients who are obese, or suffer from diabetes. It occurs as a result of scar tissue building up around the knee joint, and in some cases requires further surgery to treat.
One of the most serious knee replacement complications is called "extensor mechanism disruption," which occurs when the tendon attached to the patella moves away from the tibia during, or just after, surgery. This debilitating condition prevents the knee from extending, and requires reparatory surgery. In extreme cases, a tendon graft may be required.
The patella itself can also become dislocated following surgery. This is a particular problem in patients who have had their patella resurfaced with plastic veneers. It may require revision surgery.
Perhaps the rarest of all knee replacement complications is infection. In 2010, less than 1% of all patients who underwent knee replacement surgery experienced an infection – although that risk increases for every follow-up surgery that may be necessary. Nevertheless, there is a risk of infection with any prosthetic device.
Symptoms indicating knee replacement complications
When a knee replacement device goes wrong, it is not always immediately apparent. If there are any symptoms, they may be mild, so it's important to remain vigilant for the following:
Pain: As the components corrode, fragments become dislodged and may get stuck between the bone and tissue.
Swelling: As microscopic particles migrate from the prosthesis, they can cause the bone to dissolve. This process is known as osteolysis, and can result in an accelerated production of knee fluid, causing the tissue around the knee to swell.
Instability: This usually manifests as a sensation of the knee wanting to "give out" or buckle under pressure. Instability is a common occurrence in old, well-worn implants, and can be difficult to spot, because the loosened ligaments – and resultant loss of tension – allow the knee to become hyper-mobile. This state of hyper-mobility can magnify the instability, creating a vicious cycle.
Warmth: One of the knee replacement problems indicative of a faulty or failing implant is a peculiar sensation of warmth around the joint. Bear in mind, a certain degree of warmth is expected during the first few months after surgery, but if it persists beyond a year, it's advisable to consult a doctor.
FDA response to defective implants
According to the FDA, Zimmer's implants have been subject to hundreds of adverse event reports recounting knee replacement problems.
The FDA has conducted three product recalls for Zimmer knee components:
September 2010: the NexGen TM Tibial Trays, NexGen Complete Knee Solution MIS Tibial Components and MIS Modular Tibial Plates and Keels were recalled.
December 2010: the NexGen LPS-Flex Gender Femoral Component was recalled.
January 2012: the Natural-Knee Durasul All-Poly Patella was recalled.
More than 700 Zimmer knee lawsuits have been filed for a variety of knee replacement complications caused by their devices.
Other knee manufacturers have also been subject to complaints of device problems and knee replacement recalls. DePuy recalled its LCS Knee Implant-Meniscal devices because of labeling errors that gave incorrect specifications. They recalled the LCS Duofix Femoral Component from non-U.S territories (it has never been on the American market), as it was releasing toxins into the bloodstream of patients. DePuy also had to recall their PFC Sigma Knee Systems after the FDA warned that the devices didn't have proper approvals.
Other devices known to have caused knee replacement complications include:
Stryker's Scorpio CR and PS components, Duracon Total Knee and Unicompartmental Knee System
Smith and Nephew's Oxinum Genesis II and Profix II
Journey Uni Tibial Baseplate
Biomet's Vanguard CR
All of these devices have been partially or completely recalled.
Treatment options for knee replacement complications
Treatment strategies for faulty knee prostheses are generally comprised of surgical procedures combined with a course of antibiotics. In extreme cases, amputation, joint fusion, or multiple revision surgeries may be necessary. Patients not eligible for revision surgery are usually treated with long term antibiotic therapy.
Revision surgery takes a toll on the body. The patient is rendered immobile for long periods of time while they wait for infections and surgical wounds to heal. In some cases, they will need one surgery to remove the defective device, then a long recovery period, followed by a second-stage surgery is used to implant a new device. Extensive physical therapy is usually required.
Some knee replacement problems are so severe that doctors may be forced to amputate the leg, or perform a procedure called intramedullary arthrodesis of the knee, in which the femur and tibia are fused together by inserting a metal rod into the bones. This causes considerable loss of mobility.