Knee Replacement Recall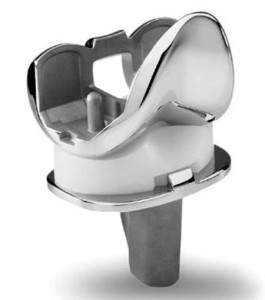 According to the American Academy of Orthopaedic Surgeons (AAOS), 4.5 million Americans have had at least one knee replacement surgery. In other words, 5 percent of all people over the age of 50 have had one knee replaced. And that number keeps growing: over the last decade, the number of knee replacements has doubled. In 2010 alone, 700,000 knee replacement surgeries were performed in the United States.
Unfortunately, not all knee surgeries go as planned. Though most patients reported reduced pain and increased mobility, an unfortunate few experience very severe complications, like chronic pain, infection, and reduced range of motion. Some fall prey to device failure and must have early revision surgery. And for many, these problems are later explained by a knee replacement recall. In the last five years, artificial knee recipients have been hit by a major Stryker knee recall and a Zimmer knee recall. Thousands have been affected.
An introduction to FDA recalls
The U.S. Food and Drug Administration, or FDA, is the federal entity responsible for regulating medical devices in the United States. The FDA is responsible for many aspects of device approval and ongoing safety, including initial device clearance and any eventual recalls.
The FDA recall process usually proceeds in the following way:
First Alert: The FDA is informed of a potential safety concern. With defective medical devices, this generally occurs when: a) A manufacturer discovers the problem and informs the FDA; b) The FDA inspects a manufacturing facility and discovers grounds for a product recall; c) The Centers for Disease Control and Prevention (CDC) discovers a problem and contacts the FDA; or d) The FDA receives reports of safety concerns and device complications.
Public Warning: When the FDA identifies a serious health hazard that affects consumers, it will make a public announcement, generally via press conference, press release, or website updates.
Product Recall: The FDA recommends a product recall. In most cases, device manufacturers issue these recommended recalls voluntarily.
Effectiveness Checks: The FDA later evaluates whether a manufacturer has taken appropriate recall actions: either removing the device from the market, or correcting any issues.
FDA recalls are categorized into three separate classes, or levels of severity:
Class I Recall: A defective medical device that could cause severe health complications or death. This is the most serious type of FDA recall.
Class II Recall: A medical device that presents a temporary health problem or has a very small risk of severe complications.
Class III Recall: A medical device that is unlikely to cause any health issues, but that violates FDA guidelines for labeling or manufacturing.
Problems with the FDA 510(k) "fast-track" approval process
The FDA has a big job: U.S. pharmaceutical sales amount to $275 billion annually. For this reason, the federal agency takes certain measures to streamline its medical device approval process. One of these methods is known as the 510(k) approval, commonly referred to as the "FDA fast track." In a nutshell, the 510(k) process allows new medical devices, for example a knee replacement implant, to qualify for pre-market approval if it is "substantially equivalent" to another, already approved device.
This fast track approach may make for speedy approvals, but many medical professionals, politicians and consumers know it can also pave the way for serious knee replacement complications. When a device qualifies for premarket approval, the manufacturer is legally allowed to bypass premarket testing and other safety measures. The biggest problem is that when the previously approved device is unsafe or recalled, the new device can remain on the market.
Dozens of knee replacements receive complaints
Over the last decade, the FDA has received many adverse even reports for knee replacement systems and components.
Some of the most problematic devices have been subject to a knee replacement recall:
Biomet Vanguard CR*
DePuy LCS Knee Implant-Meniscal system*
DePuy PFC Sigma Knee Systems*
Smith & Nephew Oxinium Genesis II and Profix II*
Smith & Nephew Journey Uni Tibial Baseplate*
Stryker Scorpio CR and PS components*
Stryker Duracon Total Knee*
Stryker Unicompartmental Knee System*
Zimmer NexGen CR-Flex femoral components
Zimmer NexGen MIS Tibial components*
Zimmer NexGen LPS-Flex femoral components*
* These components or total knee replacements have been partially or completely recalled.
DePuy knee recall
To date, DePuy has issued several important recalls for its knee replacement devices. For most U.S. consumers, the most important recalls occurred in 2008 and 2010. In 2008, it was discovered that DePuy LCS Knee Implant-Meniscal components had been improperly labeled, and were identified with the wrong size. Two years later, the FDA sent DePuy a letter regarding the manufacturer's PFC Sigma Knee Systems, which had not received proper sales approval. Additionally, DePuy issued a knee replacement recall for its LCS Duofix Femoral Component, which was sold outside the United States. The device was pulled off the market after a manufacturing substance had lodged in patient joint surfaces, resulting in painful swelling.
Zimmer knee recall
In 2006, Zimmer consultant Dr. Richard Berger reported that Zimmer's popular NexGen CR-Flex Porous Femoral implant was subject to extremely high failure rates – 8.3% of all patients he had observed. Dr. Berger's report sparked controversy, eventually leading to the 2010 report, "The High Failure Rate of a High-Flex Total Knee Arthroplasty." These reportedly high failure rates, however, did not result in a major product recall. As of 2013, Zimmer maintains that any early failure is due to surgeon error, and not a flawed device.
Nevertheless, 2010 did witness a Zimmer knee replacement recall. In September of that year the company voluntarily recalled MIS Tibial Components used in their NexGen Complete Knee Solution. The recall was considered a Class II. Later that same year, Zimmer recalled a select number of LPS Femoral Components, citing manufacturing flaws and non-conforming designs.
Stryker knee recall
In November 2012, manufacturer Stryker ordered registered ShapeMatch orthopedic surgeons to discontinue implanting the company's ShapeMatch Cutting Guides; at the time, Stryker also requested surgeons stop ordering the product. According to the FDA, the ShapeMatch guides were produced without 510(k) approval, and may not have been manufactured according to parameters established by surgeons. In January 2013, a Class I Stryker knee recall was issued, indicating that complications from the ShapeMatch system are so severe that they could cause serious health problems or death.
How recalls affect knee replacement lawsuits
A knee replacement recall can help establish legal liability against a manufacturer. However, knee replacement lawsuits can also be successful in the absence of any product recalls. By law, the legal requirement to win your case is simply establishing that your health complications were caused by your implant; this can happen whether or not the manufacturer has admitted fault through a medical device recall.