Propecia – Uses, Side Effects, Warnings
Propecia, a prescription treatment for male pattern baldness, has been linked to serious long-term sexual side effects, according to several medical studies. Personal injury lawsuits filed against Merck, the Propecia manufacturer, allege that the drug increases the risk of patients sustaining persistent or permanent injuries such as sexual dysfunction, cognitive impairment, and depression. The lawsuits also allege that Merck was or should have been aware of the Propecia sexual side effects, but that the manufacturer didn't disclose the medical risks to patients.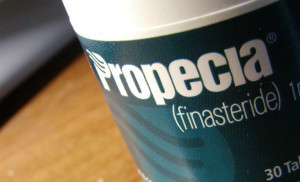 Finasteride, the generic name for Propecia, was originally used to treat patients with an enlarged prostate. One of the drug's side effects was that it helped people grow hair. Merck realized that finasteride reduced the production of dihydrotestosterone (DHT) – a hormone that shrinks hair follicles on a person's head, which is a common cause of male pattern baldness. In 1997, the FDA approved Propecia as an effective treatment for the prevention of hair loss in men. Propecia became very popular as soon as it entered the market. More than 1 million men in the United States have used the prescription drug.
Propecia sexual side effects
Merck promoted Propecia as a safe treatment, but the FDA started receiving adverse event reports stating that it was linked to serious sexual problems.
Propecia sexual side effects include:
Lower ejaculate volume
Loss of interest in sex
Decreased libido
Diminished sexual sensation
Infertility
The FDA evaluated approximately 421 complaints it received from 1998 to 2011 regarding Propecia sexual side effects. Among those cases, 59 people reported that the sexual problems lasted for more than 3 months after they stopped using the drug. Originally, Merck indicated that a limited number of patients may experience sexual dysfunction, but the company failed to inform patients that the problems may persist once they stop using the drug.
Other Propecia side effects
When patients use Propecia, they may also suffer from a variety of other injuries and medical issues, some of which may be severe and life-threatening.
Additional Propecia side effects are:
Development of breast tissue
Breast tenderness
Male breast cancer
Prostate cancer
Testicular pain
Depression and anxiety
Headaches
Dizziness, feeling faint, and weakness
Allergic reactions such as swollen hands and skin rash
Medical studies
Medical researchers conducted studies to find out if a relationship exists between Propecia and sexual dysfunction. In 2006, the Swedish Medical Products Agency started investigating reports that sexual side effects persisted for patients after they discontinued use of Propecia. The investigation concluded that patients were at risk of suffering from sexual problems such as permanent erectile dysfunction.
In 2008, Merck updated the warning labels in Sweden to inform patients that erectile dysfunction may continue to be an issue once they cease treatment. Merck updated the warning labels regarding the risk of persistent sexual dysfunction in the United Kingdom, Italy, and other European countries.
A study published in the Journal of Sexual Medicine in July 2012 also concluded that Propecia sexual side effects may last for years after patients stop taking the drug. The clinical trial was comprised of 54 healthy men under the age of 40 years old. None of the men had any pre-existing sexual, neurological, or other health-related issues prior to using Propecia.
The side effects reported by the men who participated in the study included a decreased libido, poor ejaculate quality, pain in the genitals, and difficulty achieving orgasms.
According to the study's results, 96% of the men had sexual side effects for more than a year, while 20% of the men continued to struggle with sexual dysfunction for more than six years. Other side effects were cognitive problems, anxiety, and depression.
Dr. Michael Irwig, a professor at George Washington University, and the other medical researchers noted that the results of the study are based on a small sample size. They estimate that the most severe sexual side effects may affect nearly 3% of the people who have used Propecia. Other post-marketing studies also reported that 3% – 4% of men who used the drug sustained one or two serious sexual problems. Since more than one million men have used the drug, thousands could potentially have long-lasting sexual side effects.
FDA warnings
On April 11, 2011, the FDA required Merck to revise the Propecia warning labels so that they reflected the various sexual side effects listed in the adverse event reports and post-marketing studies. The FDA ordained that the warning labels should state that ejaculation disorders, decreased libido, and orgasm difficulties may persist after use of the drug is discontinued. The FDA justified the move by reasoning that patients and health care professionals needed to be accurately informed about the potential medical problems associated with Propecia in order to make an informed decision about treatment.
The sexual side effects were updated on the Propecia warning labels in the United States three years after they were initially revised in Europe.
On June 9, 2011, the FDA also announced that Propecia may increase the risk of people developing prostate cancer. The FDA's statement was based on the findings from the Reduction by Dutasteride of Prostate Cancer Events clinical trial and the Prostate Cancer Prevention Trial. According to the results from the two clinical trials, patients who used Propecia were at greater risk of getting high-grade prostate cancer.
The FDA informed healthcare professionals that the risk of prostate cancer would be updated in the warning labels. The chances of developing prostate cancer may be low, but healthcare professionals are advised to take the cancer risk into consideration when deciding if Propecia is an appropriate treatment for their patients.
In April 2012, the FDA forced Merck to update the product warning label "to include libido disorders, ejaculation disorders, and orgasm disorders that continued after discontinuation of the drug." The FDA Propecia warning was also updated to add "a description of reports of male infertility and/or poor semen quality that normalized or improved after drug discontinuation."
The FDA acknowledged that "clear causal links between finasteride (Propecia and Proscar) and sexual adverse events have NOT been established," but that despite this, "the cases suggest a broader range of adverse effects than previously reported in patients taking these drugs."
Who may file a Propecia lawsuit?
If you have suffered from long-lasting sexual problems, cancer, or other severe medical complications, you may be eligible to receive compensation by filing a Propecia lawsuit. Consulting with an experienced attorney will help you figure out if you can pursue any legal claims against Merck and other parties who are potentially liable for your injuries.
There are several factors that determine if you have a strong case. It must be shown that you were prescribed Propecia, it was used for its intended purpose, and you weren't aware of the health risks. Medical documents need to be analyzed to verify the injuries you experienced, the type of treatment recommended by the physician, and healthcare expenses incurred. The medical bills and records will also help the Propecia lawyer calculate the full extent of the financial losses directly linked to the injuries sustained as a result of using Propecia.
Hundreds of men who suffered severe injuries have filed Propecia lawsuits in federal and state courts throughout the country. Some of the allegations in the lawsuits against Merck include negligence, fraudulent concealment, and strict liability.
Due to the large number of cases filed, they have been consolidated in federal and state courts respectively. At least 139 federal cases were included as part of the Propecia multidistrict litigation in the U.S. District Court for the Eastern District of New York.
Numerous lawsuits were also filed in New Jersey, since it's the state where Merck's headquarters are located. The New Jersey Supreme Court decided to centralize the cases filed in their state. As of April 2013, 259 cases are being litigated in the New Jersey Superior Court in Middlesex County.