Propecia Lawsuit
FDA-approved in 1997, Propecia is a prescription medication used to treat male pattern baldness, also known as androgenic alopecia. The hair loss drug is manufactured by Merck & Co., and has been used by more than 1 million American men since its launch. Buffered by impressive claims of "helping 9 out of 10 men improve or maintain hair," Propecia sales skyrocketed in its early years. By 2010, Propecia (finasteride 1 mg) garnered Merck more than $447 million in revenue. The product label cautioned of potential side effects, stating that only a small number of men experienced sexual problems, with each occurring in less than 2 percent of patients. However, post-marketing reports told a much grimmer story: sexual dysfunction among men persisted for many months, even after discontinuation of the drug.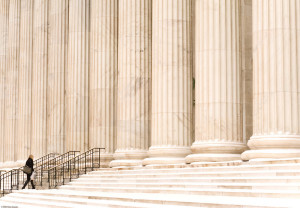 The controversial medication has been the subject of mounting litigation concerning its link to long-term sexual side effects, most notably erectile dysfunction. Hundreds of Propecia lawsuits have been filed in court rooms across the nation, with men suing Merck on counts of strict liability, negligence, fraudulent concealment, defective design, and violation of unfair and deceptive trade practices act.
FDA warns of Propecia side effects
On April 11, 2012 the FDA ordered an updated warning label for Propecia sexual side effects. The decision was based on 421 reports of sexual dysfunction submitted to the Agency's Adverse Events Reporting System (AERS) database between 1998 and 2011. Of these reports, 59 men claimed side effects such as decreased libido, ejaculatory and orgasm disorders, and erectile dysfunction from Propecia that continued for at least 12 weeks after stopping the drug. However, the revised warning label came too late for countless men – many in their 20s and 30s – who took the pills to combat a thinning hairline and were left with debilitating intimacy issues.
Just two months later, in June 2011, the FDA announced additional label changes for Propecia, indicating that finasteride may also increase the risk for developing a serious form of high-grade prostate cancer.
File a Propecia lawsuit
Men who file claims against Merck allege that they were inadequately warned about the dangers of enduring sexual side effects, since Merck failed to update product labeling in the United States until 2012. As early as 2006, the Swedish Medical Products Agency had been investigating the relationship between finasteride and sexual dysfunction, based on reports of men who continued to suffer erectile dysfunction after cessation of Propecia. In 2008, Merck & Co. changed the Propecia label in Sweden to reflect that post-marketing reports included persistent erectile dysfunction.
Sexual dysfunction includes an individual's ability to achieve arousal and orgasm, and may also indicate reduced sperm count and ejaculatory volume. Each Propecia lawsuit contains allegations of a claimant's particular manifestation of these side effects, whether it's diminished libido, difficulty getting or maintaining an erection, reduced sexual sensation – or a combination of these symptoms.
In addition, some men have also reported other serious neurological side effects from Propecia, including depression (now included on the Propecia warning label), anxiety, suicidal ideation, mood disorders, cognitive dysfunction (difficulty with intellectual processing), social withdrawal, and lethargy.
Due to the growing number of lawsuits against Merck that share common allegations of persistent sexual dysfunction, the U.S. Judicial Panel on Multidistrict Litigation (JPML) centralized federal Propecia lawsuits in multidistrict litigation – MDL No. 2331. On April 16, 2012, the claims were coordinated in U.S. District Court for the Eastern District of New York in Brooklyn, and are being presided over by Judge John Gleeson.
Propecia lawsuit trials
An estimated 400 Propecia lawsuits have been filed throughout the country to date, and of this number, nearly 150 cases have been consolidated in the finasteride products liability MDL. While the bellwether Propecia lawsuit trials have yet to be scheduled, these initial cases will help determine how jurors might respond to evidence and expert testimony presented by both sides. These preliminary trials are an anxiously awaited part of multidistrict litigation, as they may predict whether cases will be resolved with Propecia lawsuit settlements or court awards. In most situations, three to five bellwether trials are chosen in an MDL.
Other complaints filed in state courts in New Jersey – home of Merck's corporate headquarters – have been coordinated for pre-trial proceedings. An estimated 250 Propecia lawsuits have been assigned to New Jersey State Court in Middlesex County. Superior Court Judge Jessica R. Meyer will be presiding over the litigation, which continues to expand as more men pursue legal recourse in the hopes of recovering compensation.
Damages for Propecia sexual side effects
The Journal of Sexual Medicine (March 2011) published more evidence that supports allegations common to Propecia lawsuits. Researchers discovered that adverse sexual side effects often went unresolved after men stopped taking finasteride. Led by George Washington University urologist Dr. Michael S. Irwig, the study monitored 71 patients who were otherwise healthy prior to taking the hair loss drug. Alarmingly, 96 percent of the men reported sexual dysfunction that lasted three months or longer, and 20 percent of patients were still suffering sexual side effects more than five years after they stopped using Propecia, leading Irwig to conclude that some sexual side effects may be permanent.
Dealing with side effects of such a personal nature often places extreme burdens on marriages, relationships, and coping with daily activities. For many plaintiffs, sexual dysfunction caused by Propecia has significantly impaired their quality of life and ability to work, putting them in dire financial and emotional straits.
By taking legal action against Merck, injured men request damages for:
Past and future medical expenses
Lost wages
Diminished earnings capacity
Emotional trauma
Permanent disability
Pain and suffering
Propecia class action lawsuits & multidistrict litigation
At this time, claimants have not filed a Propecia class action lawsuit, which joins multiple cases as one suit under a representative plaintiff. This type of litigation holds several advantages as it may increase the efficiency of the legal process, and lower legal fees for all involved. However, if a Propecia lawsuit settlement is negotiated, the amount is split evenly among the class, since the suit is tried as a single case. A class action lawsuit may contain hundreds if not thousands of plaintiffs, which may also limit the amount of sway each claimant has over his case.
For the time being, injured men have been filing individual Propecia lawsuits, some of which have joined the multidistrict litigation in New York federal court. Under the guidance of one judge, MDL proceedings offer other benefits to plaintiffs, as it can help expedite pre-trial proceedings, reduce the chance of inconsistent court rulings, and affect the outcome of future Propecia lawsuit settlements. Each case retains its individual status, and if the lawsuit doesn't resolve with a verdict or settlement, it will be mandated back to its original district court for continued litigation.
Noteworthy Propecia plaintiffs
On November 26, 2012, a 33 year-old plaintiff joined the Propecia MDL, claiming Merck's misrepresentations of Propecia were made "willfully, wantonly, uniformly, deliberately and recklessly." The man alleges that he unknowingly took a potentially dangerous drug whose side effects include erectile dysfunction and severe cognitive impairment, which he still suffers to this day, despite stopping the medication in 2003.
Another Propecia lawsuit filed by a West Virginia resident contends that as a result of taking finasteride, which he used for 15 months, he now suffers from decreased libido, erectile dysfunction, poor semen quality, ejaculation and orgasm disorders, penile atrophy, memory loss, and issues of fatigue and lethargy. His claim was also filed in New York district court, and the plaintiff is demanding punitive damages to punish Merck.
A Texas couple filed their lawsuit against Merck on August 9, 2012, charging the company with wrongful conduct, including failure to warn of serious side effects. The case is also proceeding in the Propecia MDL. The husband alleges that prior to taking Propecia he never experienced sexual dysfunction, low testosterone, reduced sexual drive, depression or cognitive impairment. However, he purportedly developed these conditions after taking finasteride, and his symptoms persisted even after discontinuing the drug. His wife is seeking damages for loss of consortium, as she has lost her husband's companionship. She claims to suffer emotional anguish due to the damage Propecia has caused to their relationship.
Speak with a Propecia lawyer
In the history of Propecia, adverse event data has found that a drug intended for hair loss treatment can have life-shattering effects ranging from erectile dysfunction to severe depression and cognitive impairment. Men who have suffered long-term sexual dysfunction or other injuries from taking the hair loss drug are urged to talk with a product liability Propecia lawyer about their eligibility for filing a claim.
While no amount of money can compensate for persistent sexual problems, a jury award or Propecia lawsuit settlement can help plaintiffs cover medical expenses and other costs related to their injuries.