Mirena Lawsuit
Manufactured by Bayer Pharmaceuticals, the Mirena IUD has been on the U.S. market since 2000. In recent years, it has attracted considerable media attention, with increasing numbers of Mirena lawsuits describing the device as 'defective and unreasonably dangerous.' The allegations leveled against Bayer include deceptive advertising and concealing the risk of severe side effects associated with the IUD.
It's estimated that 8.5% of American women use some form of intrauterine device (IUD), a long-term form of birth control that prevents pregnancy by emitting the same hormones found in oral contraception. The hormones thicken the lining of the uterus, thus reducing chances of pregnancy. Favored by women who don't want to take a daily pill, IUDs can be effective for up to five years.
Since approved by the FDA, the Mirena IUD has been the subject of more than 45,000 adverse event reports. According to most of the recent Mirena lawsuits, problems encountered ranged from device expulsion and dislodgement to vaginal hemorrhage and infection. Some women also suffered serious side effects as a result of uterine perforation, including organ damage and life-threatening ectopic pregnancies.
Mirena side effects and complications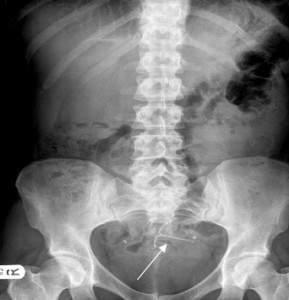 The most common side complication associated with the Mirena IUD is its tendency to move inside the uterus. This is known as intrauterine migration, and can result in the device becoming embedded in the uterine wall. If the IUD perforates the uterus, it can damage internal organs, causing abscesses, peritonitis and infection.
Some studies have shown that the Mirena IUD can migrate into the abdomen, which makes it incredibly difficult for physicians to find. The danger is that migration can go undetected, and a patient may be misdiagnosed as having simply expelled the device. It's also been shown that the risk of uterine perforation is greater in women who have delivered a child within the last 6 months.
Serious side effects associated with the Mirena IUD include:
Abscess
Embedment in the uterus
Complications from device migration
Infertility
Perforation of the uterus
Brain injury (IIH)
Vaginal hemorrhage
Intestinal perforations or obstruction
Grounds for filing a Mirena lawsuit
A number of women who have suffered unexpected Mirena side effects and complications are taking Bayer to court to pursue compensation to cover medical expenses, lost wages and pain and suffering. The plaintiffs accuse the company of misleading marketing, producing a defective product and concealing the risk of the device migration.
Women who file a Mirena IUD lawsuit accuse Bayer of:
Misrepresenting the benefits of Mirena
Understating the risks of severe complications
Failing to adequately test the IUD prior to marketing
Employing deceptive marketing tactics
Failing to warn consumers of dangerous Mirena side effects
Knowingly producing, distributing and selling a defective product
Mirena IUD lawsuit allegations
Women all over the U.S. are taking legal action against Bayer, each with varying complaints regarding complications with the Mirena IUD.
In 2009, a woman named Julie Cantor underwent a procedure to implant the Mirena IUD. Within two years, she discovered she had suffered a perforated uterus which required laparoscopic surgery to correct. Her Mirena lawsuit cited significant emotional trauma as well as pain and suffering.
In Chicago, a claimant alleged she suffered multiple complications, and continued to be in pain despite surgical removal of the Mirena IUD. The plaintiff also said she had a diminished quality of life, and had no knowledge or warning of potential Mirena side effects.
A 26-year old plaintiff had to undergo surgical removal of the device after discovering she was 12 weeks pregnant. She had been implanted with the Mirena IUD nearly four years earlier, and doctors initially believed it had been expelled, as it didn't show up on an ultrasound scan. In fact, the device had migrated and become lodged in the abdominal wall, where it remained undetected until she learned of her pregnancy. The IUD was removed to prevent complications with her pregnancy.
One Mirena IUD lawsuit filed in California accused Bayer of "wanton and reckless disregard for the public safety," after the plaintiff suffered abdominal cramping and pain less than 12 months after being implanted with the device.
Nicole Johnson filed a claim against Bayer after she experienced perforation of the uterus that required surgery. The plaintiff suffered vaginal bleeding and miscarriage and fears she may be infertile due to damage from the IUD. She is charges Bayer with producing a defective and unsafe product.
FDA warns Bayer about deceptive marketing
In a warning letter dated December 30, 2009, the FDA advised Bayer that they were in violation of the Federal Food, Drug and Cosmetic Act. The letter accused Bayer of false advertising and misleading marketing about the Mirena IUD. The FDA pointed to Bayer's "busy moms" campaign which implied that using the Mirena IUD will result in "increased levels of intimacy, romance and by implication emotional satisfaction" and will make women "look and feel great" – all unsubstantiated claims. The FDA also warned Bayer against omitting safety information regarding potential Mirena side effects.

Mirena class action lawsuits & multidistrict litigation
At present Mirena lawsuits have been brought on an individual basis, and there is no sign that a class action suit has been filed. It was recently announced that the U.S. Judicial Panel on Multidistrict Litigation (JMPL) is considering coordinating federal Mirena IUD lawsuits into a single district court as part of multidistrict litigation. The motion was filed on January 16, 2013 by several plaintiffs who suffered complications after being implanted with the IUD. In the petition, the claimants asked that the Mirena MDL be coordinated in the U.S. District Court in the Northern District of Ohio, under the oversight of Judge Patricia A. Gaughan. In a recent hearing in San Diego, Bayer opposed the motion to consolidate federal cases, claiming a centralized MDL would prejudice their defense. However, the company is willing to centralize cases in New Jersey, closer to their corporate headquarters.
Get legal advice from a Mirena lawyer
Women who file a Mirena lawsuit accuse Bayer of acting with willful disregard for the safety of the public, and are demanding compensatory and punitive damages for their injuries. If you or someone you care about has suffered adverse side effects from the Mirena IUD, you may be eligible for financial compensation. Individuals affected should seek the counsel of an experienced Mirena lawyer to find out if they have grounds for a lawsuit.