Pradaxa
Pradaxa (dabigatran) is an oral anticoagulant, or blood thinner. In a class of drugs known as direct thrombin inhibitors, Pradaxa is used to lower the risk of stroke and blood clots in patients with non-valvular atrial fibrillation – an irregular heart beat caused by something other than heart valve disease. Prior to Pradaxa's approval by the Food and Drug Administration (FDA) in 2010, the only other medication indicated for such anticlotting purposes was warfarin, also known as Coumadin, which has been used in the U.S. since the 1950s.
In just over two years on the market, Pradaxa generated an estimated $1 billion in revenue for its manufacturer, the German-based Boehringer Ingelheim Pharmaceuticals. However, the drug has been the subject of growing concern in the medical community due to the prevalence of dangerous Pradaxa side effects, including uncontrollable—and potentially fatal—internal bleeding. Unlike with warfarin, there is no known antidote or internal bleeding treatment for dabigatran.
Over 700,000 Americans and counting have been prescribed Pradaxa. By the close of 2011, after just one year on the market, approximately 17% of patients with atrial fibrillation were being treated with Pradaxa, as compared with 44% with warfarin. At the same time, however, troubling reports of Pradaxa side effects were gathering in number—the FDA's adverse events reporting system received 542 claims of death caused by irreversible Pradaxa bleeding in 2011 alone.
How it works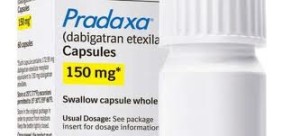 Boehringer Ingelheim developed Pradaxa to be a more effective, and easier to use, alternative to warfarin. Whereas treatment with warfarin demands continual doctor oversight of the patient's diet and medication doses, as well as routine blood tests to ensure that the drug is working properly, Pradaxa does not require intensive monitoring. Furthermore, pre-market trials showed that Pradaxa was better at preventing strokes.
Medical studies have shown that the risk of internal bleeding with Pradaxa is no lower than with warfarin, though the complications that can arise are far more dangerous, since there is no available reversal agent for Pradaxa bleeding. By contrast, patients who experience internal hemorrhage with warfarin can be successfully treated with high doses of vitamin K, usually through intravenous infusion.
Pradaxa side effects
Pradaxa side effects range from mild to, in rare cases, potentially fatal. People with allergies to dabigatran should not take Pradaxa. Symptoms of an allergic reaction to dabigatran include hives, difficulty breathing, and swelling of the face, lips, tongue, and throat.
Common Pradaxa side effects include:
Stomach upset or pain
Indigestion and/or heartburn
Vomiting and diarrhea
Mild itching and skin rash
Serious side effects of Pradaxa:
Gastrointestinal bleeding
Brain hemorrhage
Stroke
Heart attack
Liver failure
Death
Signs that a patient is experiencing serious complications from Pradaxa include:
Easy bruising
Abnormal bleeding from the nose, mouth, or rectum
Heavy menstrual bleeding
Discolored urine (pink or brown)
Joint inflammation
Internal bleeding and heart attack
A 2012 study published in the Journal of the American College of Cardiology found that in comparison to warfarin, Pradaxa "significantly increases the risk of bleeding or thromboembolic complications," such as heart attack. These findings echoed data collected by the manufacturer-sponsored RE-LY trial  (Randomized Evaluation of Long-term Anticoagulant Therapy), which demonstrated consistent heart health risks associated with Pradaxa use. Also in 2012, a meta-analysis conducted by doctors at the Cleveland Clinic found that the rate of myocardial infarction and acute coronary syndrome was "significantly" higher in patients using Pradaxa, as compared with warfarin. The research, led by Ken Uchino and Adrian Hernandez, was published in the Archives of Internal Medicine. The study authors concluded that, "Clinicians should consider the potential of these serious harmful cardiovascular effects with use of dabigatran."
Later that year, in March of 2012, New Zealand researchers published a letter in the New England Journal of Medicine addressing the risks of fatal bleeding linked with Pradaxa, particularly in light of a lack of an antidote. The authors wrote that, "We are concerned that the potential risks of this medication are not generally appreciated. The serious consequences of the lack of an effective reversal agent should not be underestimated."
Some patients are especially at risk for excessive Pradaxa bleeding complications.
Increased risk factors for internal hemorrhage while using Pradaxa include:
Kidney disease
Mechanical heart valve
History of stomach ulcers or bleeding
Age 75 or older
In December of 2012, the FDA issued a drug safety communication warning that patients with mechanical heart valves should not be prescribed Pradaxa. The FDA referenced the findings from a European clinical trial, RE-ALIGN, which showed that a prohibitively high number of patients with mechanical heart valves were experiencing blood clots, stroke, heart attack, and Pradaxa related deaths while taking  the medication.
Gastrointestinal bleeding
In August 2011, Japan's Ministry of Health issued a press release indicating that it would require a boxed warning on the Pradaxa package insert, alerting consumers to several fatal cases of gastrointestinal bleeding linked to the anticoagulant.  In November 2011, Australia's drug regulatory agency also issued a public safety advisory in regard to Pradaxa, informing the medical community that the most common form of serious hemorrhage linked with the drug occurred in the gastrointestinal tract. Despite the risks, neither country has issued a recall of Pradaxa.
Gastrointestinal hemorrhage involves the loss of blood in the gastrointestinal tract, anywhere from the pharynx to the rectum.
Other gastrointestinal side effects of Pradaxa have been reported, such as:
Nausea
Diarrhea
Dyspepsia (including abdominal pain)
Erosive gastritis
Gastric hemorrhage
Gastrointestinal ulcer
Fatalities linked to Pradaxa
A review of adverse event data released by the Institute for Safe Medication Practices in early 2013 found that Pradaxa was five times more likely to cause patient death than warfarin. Data for the review was collected from the FDA's adverse event reports for 2012. In the second quarter of 2012 alone, Pradaxa was the subject of 956 adverse event complaints, 178 of which resulted in death. By comparison, warfarin was associated with only 14 deaths during the same time period. Boehringer Ingelheim responded to the report by pointing to the findings of its own studies, which show equivalent rates of hospitalization with Pradaxa and warfarin. Boehringer Ingelheim also suggests that data derived from the FDA adverse events system lacks contextualization, and that complications involving warfarin are likely to be significantly underreported.
Pradaxa lawsuits
An escalating number of Pradaxa lawsuits have been filed across the country in the wake of serious injuries and deaths connected with the controversial blood thinner. Plaintiffs in these cases, many of which have been filed on behalf of decedents, accuse Boehringer Ingelheim of manufacturing and distributing a defective and deadly drug, and failing to warn consumers about the serious risks they were facing. Over 200 Pradaxa lawsuits had been filed as of early 2013, with hundreds and even thousands more expected to reach court dockets.
In August of 2012, a panel of federal judges ordered that all current and future Pradaxa llitigation filed in federal courts be transferred and consolidated into a single court for the purpose of expediting pre-trial procedures. The Pradaxa multidistrict litigation (MDL) was established in the Southern District of Illinois, with U.S. District Court Judge David R. Herndon presiding. The first trial concerning adverse Pradaxa side effects is currently scheduled to begin in August of 2014.