Pradaxa Class Action & Multidistrict Litigation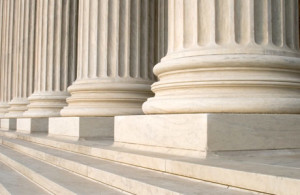 In order to address the rapidly growing number of personal injury and wrongful death lawsuits against Pradaxa manufacturer Boehringer Ingelheim, U.S. federal circuit judges have established a special procedure known as multidistrict litigation, or MDL.  This type of consolidated legal action is different than a Pradaxa class action lawsuit, though both have their advantages and drawbacks.
This guide to Pradaxa litigation includes information on the medication, an explanation of the various legal options for victims of adverse side effects, and examples of how plaintiffs are currently seeking compensation for injuries caused by the drug.
Case background: Pradaxa labeled a dangerous drug
Pradaxa is a blood thinner, or anticoagulant, taken to reduce the risk of stroke in patients with certain types of heart arrhythmia.  Like other blood thinners on the market, Pradaxa carries a risk of uncontrolled bleeding, since it interferes with the body's ability to form blood clots.  However, unlike traditional anticoagulants, Pradaxa side effects cannot be reversed in case of a bleeding emergency, leaving doctors with no way to stop the hemorrhage and, in some cases, resulting in the death of the patient.  Since its introduction to the U.S. market in 2010, Pradaxa has come under intense scrutiny, been blamed for hundreds of fatalities, and resulted in a wave of Pradaxa litigation.
Pradaxa class action suit
A victim who suffered a bleeding event from the medication, or someone who has lost a loved one as a result of the drug's side effects, can seek compensation for their injury or loss by filing a Pradaxa lawsuit.  If a plaintiff's lawyer suspects that similar harm may have come to a large number of people in a similar way, the lawyer may file the suit on behalf of a class, with the plaintiff representing a typical member of the proposed class.
If the court accepts the class action, a single trial will determine the outcome for all plaintiffs in the class who do not specifically opt out of the case.  This has the advantage of reducing legal costs and preventing redundant trials, but a Pradaxa class action has several disadvantages when compared to individual trials.  For example, class action plaintiffs have to split whatever award or settlement is agreed upon evenly, which means that individual costs or losses will not be considered.  These Pradaxa lawsuit settlements are often smaller than what would be recovered from individual trials.  In addition, members of the class who fail to opt out lose their right to file later claims for damages.  For these reasons, a Pradaxa class action is unlikely to be a preferred option for Pradaxa victims.
Multidistrict litigation (MDL) and mass torts
With multidistrict litigation, all similar Pradaxa lawsuits pending in federal courts are consolidated in a single U.S. District Court for the purposes of discovery and pre-trial proceedings.  Once MDL concludes, cases are sent back to their original courts to be tried individually, if settlements are not reached beforehand.  This process allows plaintiffs, defendants, and courts to conserve time and resources, but also allows each case to be tried on its individual merits.  Plaintiffs with more severe injuries may be able to receive more compensation than a plaintiff who suffered minor injuries; and individual losses, like the cost of medical care, will be taken into account.
Mass torts, also known as multi-county litigation is similar to MDL but occurs on the state level.  Because MDL is already taking place in federal court, MCL is less likely to occur.  Cases filed in state courts are usually removed to federal court and then consolidated along with the current MDL.
In practice, it is likely that the current multidistrict litigation may result in Pradaxa lawsuit settlements and eliminate the need for individual trials.  Judges presiding over MDL proceedings usually take steps to encourage settlements, including ordering settlement conferences between the plaintiffs and defendants, and arranging bellwether trials to indicate how individual trials in other jurisdictions are likely to turn out.
Current Pradaxa litigation and plaintiffs
There are currently 697 cases pending in the Pradaxa MDL in the U.S. District Court for the Southern District of Illinois, under Judge David R. Herndon.  These cases come from all over the country and address complaints ranging in severity.  The Pradaxa lawsuits are currently in the discovery process, and the first four bellwether trials are scheduled to begin on August 11, 2014, November 3, 2014, January 5, 2015, and February 16, 2015.  Bellwether trials are being chosen as a representative sample of the different kinds of injuries suffered by plaintiffs in order to better inform the parties of the likely outcome of taking any given case to trial.
Pradaxa injuries alleged by MDL plaintiffs include:
Kay Lanius says she experienced severe gastrointestinal Pradaxa bleeding only 11 days after starting the drug.  Lanius was hospitalized for five days and had to undergo blood transfusions to save her life.  Her complaint against Boehringer Ingelheim alleges failure to warn, negligence, design defect, fraudulent concealment, negligent misrepresentation and/or fraud, and breach of express and implied warranties.
Martha Lesnick claims that her husband died from uncontrolled brain bleeding less than two months after starting Pradaxa.  She accuses Boehringer Ingelheim of failure to warn, negligence, and fraudulent concealment.
Charles Wagaman left behind a wife and two children when internal bleeding caused by Pradaxa resulted in severe anemia and heart failure only eleven weeks after beginning Pradaxa, according to their lawsuit.  The family and their Pradaxa lawyer allege wrongful death, failure to warn, negligence, and breach of warranty on the part of Boehringer Ingelheim.