Bladder Sling Complications, Recalls & Lawsuits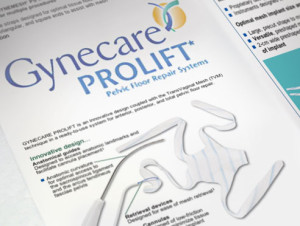 Stress urinary incontinence – the involuntary leakage of urine – affects roughly 39 percent of American women. Pregnancy, age, obesity, neurological disorders and certain medications may contribute to the development of this condition to some degree. Most people will seek relief through conservative methods, such as performing daily Kegel exercises to strengthen the pelvic floor muscles, limiting fluid intake and wearing protective pads.
Drugs such as Oxytrol, Detrol, Ditropan XL and Vesicare may be recommended for women with overactive bladders or bladder spasms. Botox is another optional treatment used in recent years. However, some women opt for more invasive bladder sling surgery when the symptoms of stress urinary incontinence are extremely disruptive to daily life and conservative methods fail.
What is a bladder sling?
A type of tranvaginal mesh, bladder slings can be made of donated biological tissue, tissue from the abdominal wall, or man-made mesh material. It's shaped like a hammock that cradles the sagging bladder neck to provide extra support. There are generally three types of bladder slings used today:
Conventional slings: the sling is attached to pelvic or abdominal tissue with stitches to achieve proper tension.
Adjustable slings: the sling is placed into the body while the patient is awake, with adjustments made months or years later under local anesthetic.
Tension-free slings: the tissue holds the sling in place without the use of stitches, with scar tissue formation eventually holding the mesh in place.
Uses of bladder slings & transvaginal mesh devices 
Bladder slings are not the only product designed to treat urinary incontinence. Some patients experience urine leakage when the vaginal walls, bladder, rectum, bowel and uterus sag or become misaligned. For these patients, a simple sling will not do. Transvaginal mesh devices may be used to treat pelvic organ prolapse, as well as urinary stress incontinence. Both products can be made from biological material or mesh, with differences in shape and size. Transvaginal mesh devices are much larger to provide greater support for the internal organs.
Bladder sling complications
Even though there are less invasive techniques for inserting bladder slings and meshes, all surgeries carry risks. The most common complication is the inability to urinate following the procedure, which affects less than 5 percent of patients. If this occurs, catheterization may be needed to empty the bladder from time to time.
Women have also reported bladder sling complications such as:
Abscess formation
Pain
Bladder spasms
Bleeding
Blood clots
Injury to organs such as the bladder, urethra and urinary tract
Infection
Mesh erosion and migration
Mesh protrusion
Overactive bladder
Painful urination and intercourse
Reactions to anesthesia
Vaginal prolapse 
Serious bladder sling complications (such as protrusion of the mesh or sling) may require removal or replacement. A review of published literature conducted in 2012 suggests that up to 33 percent of women who receive bladder slings or mesh implants require surgical removal of their sling or mesh devices.
WBUR News reports that vaginal mesh devices – including bladder slings – have resulted in horror stories for some women. The article cites six women who say they have had a combined total of 45 surgical procedures to undo the damage from their original urethral sling implantations. "I was in the most horrendous pain I've ever experienced," said 43-year-old Amy Gezon. "I finally ended up in the ER after expressing a desire to end my life just to escape the pain." She said had she known of the risks associated with vaginal mesh products, she would have never consented to the surgery.
Bladder sling recalls
The first bladder sling to be recalled was Boston Scientific's ProteGen Sling in January 1999 after 500 lawsuits prompted an FDA investigation. The urethral sling had been on the market for just two years and two months; but during that time, many other manufacturers gained approval for "substantially equivalent" slings that passed through the FDA's 510(k) clearance program.
Other recalled bladder slings include:
Boston Scientific Pinnancle Pelvic Floor Repair Kit
C.R. Bard Inc. Avaulta support systems
Johnson & Johnson / Ethicon Gynecare systems 
Back in 2008, the FDA alerted health care providers that they had received more than 1,000 reports of bladder sling complications from nine surgical mesh manufacturers. "Physicians should inform patients about the potential for serious complications and their effect on quality of life, including pain during sexual intercourse and scarring," the notice said.
Bladder sling lawsuit status
Currently, many of the bladder sling lawsuits have been consolidated into multidistrict litigation to aid the discovery process and determine the course of future lawsuits – whether they will be settled individually or in a massive settlement. Mentor Corp's ObTape Sling products are being overseen by Judge Clay D. Land in Georgia, with more than 527 claims filed under MDL #2004.
The federal court of West Virginia is also processing six separate transvaginal mesh multidistrict litigations containing more than 37,000 lawsuits filed against C.R. Bard, American Medical Systems, Boston Scientific, Ethicon, Coloplast and Cook Medical.
One of the first vaginal mesh lawsuits went to trial in 2013. The Superior Court of Atlantic County in New Jersey ordered Ethicon / Johnson & Johnson to pay the plaintiff $11.1 million in compensation. From here, it's unclear whether bladder sling manufacturers will choose to fight the cases individually or offer mass settlements to alleged victims of bladder sling pain and complications.