Transvaginal Mesh Revision Surgery
Women who suffer from pelvic organ prolapse (POP) or stress urinary incontinence (SUI) may have symptoms like pain, pressure and urinary leakage. When these symptoms become too difficult to live with, doctors may recommend transvaginal mesh surgery.
In some cases, this type of treatment will solve the problem and allow women to resume their active lives. Many women, however, have reported vaginal mesh complications like bleeding, infections, mesh erosion, pain, and damage to internal organs. In these cases, women have to go through vaginal mesh removal surgery, to have the devices taken out.
These additional corrective surgeries can be more difficult and complicated than the original operation to implant the vaginal mesh. Furthermore, they may not solve the problems or relieve pain. Women who have had to undergo multiple revision surgeries have filed lawsuits in court seeking damages from the manufacturers of mesh products.
What is transvaginal mesh surgery?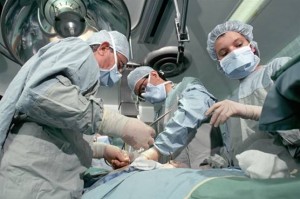 Women who suffer from pelvic organ prolapse (POP) or SUI typically have pelvic muscles and connective tissues that have weakened and stretched over time, due to aging, multiple childbirths or prior surgeries. In some cases, their pelvic muscles are no longer able to adequately support organs like the bladder, bowel and uterus.
As the muscles lose their strength, these organs may drop or fall down and forward into the vaginal wall. Resulting symptoms may include urinary incontinence, pain, pressure, constipation, overactive bladder, painful sexual intercourse, and bulging of the organs into the vaginal opening.
Traditional surgery involved a sort of "pinching together" of the tissues and sutures to reduce the bulge. Such treatments, however, did not offer the high rate of success surgeons were looking for. Therefore, in 2002, the FDA approved the first mesh product to treat POP. Since then, many manufacturers have created surgical mesh devices designed to help support and hold pelvic organs in place.
These mesh products are like small pieces of netting that surgeons use to form a sort of "hammock" or "sling" that supports pelvic organs. Though they were originally implanted through an abdominal incision, later methods involved insertion through the vagina, which produced much smaller scars and was thought to help reduce recovery time. This choice has proved disastrous for many women, who have suffered severe mesh complications. 
Why might women need vaginal mesh removal surgery
In October 2008, the FDA released a public health notification reporting over 1,000 reports of vaginal mesh complications. Between January 2008 and December 2010, the agency received an additional 2,800 reports of adverse events related to surgical mesh.
On July 13, 2011, the FDA published a safety communication warning healthcare providers and patients of the serious complications that can arise after transvaginal mesh surgery. These include:
Vaginal mesh erosion through the vagina (also called extrusion or protrusion)
Pain
Infection
Bleeding
Pain during sexual intercourse
Organ perforation
Urinary problems
Recurrent prolapse
Neuro-muscular problems
Vaginal scarring/shrinkage
Emotional problems
In some cases, the mesh reacted with the tissues, creating inflammation and pain. In others, it drew bacteria from the vagina into internal organs, leading to infection. The polypropylene material could also cause abscesses and bleeding, or even work its way through the tissues to become exposed through the vaginal skin.
Women who experience these dangerous reactions seek help from their doctors, who usually recommend vaginal mesh removal surgery. Nevertheless, such procedures may not always fix the problem.
Vaginal mesh removal surgery extremely difficult
Vaginal mesh removal surgery can be time consuming and extremely challenging for surgeons. The mesh is designed to be permanent, and is made of a fine material. Typically it has embedded itself into surrounding tissues, so surgeons have to carefully cut it out, sometimes causing damage during the procedure. As the surgeon will want to conserve as much tissue as possible to avoid additional complications, the operation can be incredibly difficult, and in some cases doctors may not be able to remove all of the mesh.
A 2012 study published in the European Journal of Gynecological Reproductive Biology reported that in patients experiencing persistent pain following transvaginal mesh surgery, removal of the mesh was helpful in those who had some types of nerve injury, but not in others. The researchers noted that early intervention was the key to success.
In late 2012, researchers from the University of Michigan presented their findings at the American Urogynecologic Society 33rd Annual Scientific Meeting. Dr. Erin C. Crosby, lead author of the study, noted that over the past five years, the University of Michigan tertiary center had seen a ten-fold increase in the number of vaginal mesh removal surgeries.
After observing 57 patients who suffered vaginal mesh complications including painful sexual intercourse and mesh erosion, researchers calculated that 71 percent experienced improvement or resolution of pain after the removal. They added that 50 percent still complained of persistent pain, and 25 percent reported continued pain during intercourse.
Alternatives to transvaginal mesh surgery
According to the FDA's 2011 warning, complications associated with transvaginal mesh surgery are not rare, and in some cases, even multiple surgeries don't resolve the complications.
The federal agency also concluded "it is not clear that transvaginal POP repair with mesh is more effective than traditional non-mesh repair in all patients with POP and it may expose patients to greater risk." They added that healthcare providers should recognize that in most cases, "POP can be treated successfully without mesh thus avoiding the risk of mesh-related complications." In January 2012, the agency requested safety data from all manufacturers of surgical mesh, and required them to conduct additional safety studies on their products.
Meanwhile, a 2012 study published in the International Urogynecology Journal compared traditional non-mesh surgery for pelvic organ prolapse with new mesh-augmented procedures, and found comparable outcomes, but higher complication rates with vaginal mesh, particularly for erosion.
Vaginal mesh litigation
Thousands of women who endured mesh surgery and then sustained serious complications involving multiple corrective surgeries are now seeking compensation by pursuing a transvaginal mesh lawsuit. So many cases have been filed that the U.S. Judicial Panel on Multidistrict Litigation (JMPL) has centralized all federal lawsuits involving vaginal mesh into seven different consolidated litigations, six of which are located in one court in the Southern District of West Virginia.
Surgical mesh manufacturers involved in litigation include:
American Medical Systems (AMS)
C.R. Bard
Boston Scientific
Ethicon (a subsidiary of Johnson & Johnson)
Coloplast
Cook Medical
Mentor Corp.
Cases involving the Mentor ObTape have been coordinated in the Middle District of Georgia. Plaintiffs claim the manufacturers failed to warn about the serious health risks, and neglected to adequately test the products before releasing them onto the market.
Juries award damages to mesh plaintiffs
In February 2013, South Dakota resident Linda Gross was awarded $3.35 million in compensatory damages from a New Jersey Supreme Court jury. Gross testified that she'd undergone 18 corrective surgeries in an attempt to resolve her vaginal mesh complications. In a later decision, the jurors awarded an additional $7.76 million in punitive damages. Ethicon and Johnson & Johnson, the defendants in the case, stated they would appeal the verdict.
In an earlier case, a California jury awarded $5 million to a woman who endured at least eight revision surgeries after receiving a mesh implant manufactured by C.R. Bard. Her husband was awarded an additional $500,000 for loss of spousal consortium.