Vaginal Mesh Erosion
One of the most serious transvaginal mesh complications is erosion of the vaginal wall. According to one analysis of nearly 12,000 women who were implanted with surgical mesh, around 10 percent reported vaginal mesh erosion within a year of surgery.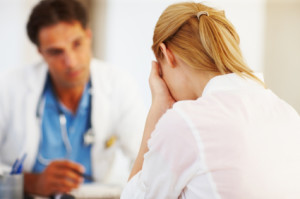 Erosion is also one of the most complex mesh complications to effectively treat. Often difficult to diagnose, there is a danger that mesh products that have migrated from the vaginal wall will remain unnoticed by the patient, unless they suffer some of the symptoms outlined below.
Vaginal mesh erosion occurs when the device slowly erodes the skin and tissue surrounding the vaginal wall. In some cases, it protrudes from the vagina. In others cases, it may become embedded in the abdominal wall, putting internal organs at risk, and potentially causing dangerous infections.
Women who have experienced vaginal mesh erosion often require revision surgery to remove the device, although this does not always solve the problem.
Complications arising from mesh erosion include:
Damage to the bladder or bowel
Recto-vaginal fistula – an abnormal connection between the rectum and the vagina
Excruciating pain
Abscess formation
These transvaginal mesh complications necessitate further surgeries to remove the device and repair the damage.
FDA warning
Between 2005 and 2008, the FDA received over 1,000 adverse event reports from nine manufacturers of transvaginal mesh, advising them of potential complications. Owing to the sheer number of women coming forward with complaints, the FDA issued a warning to healthcare practitioners in October 2008. The communication was intended to alert doctors of the complications associated with mesh implants, which were initially marketed as a safer, more effective treatment for pelvic organ prolapse (POP) and stress urinary incontinence (SUI).
The FDA's missive stated: "The most frequent complications included erosion through vaginal epithelium, infection, pain, urinary problems, and recurrence of prolapse and/or incontinence. There were also reports of bowel, bladder, and blood vessel perforation during insertion. In some cases, vaginal scarring and mesh erosion led to a significant decrease in patient quality of life due to discomfort and pain, including dyspareunia. Treatment of the various types of complications included additional surgical procedures (some of them to remove the mesh), IV therapy, blood transfusions, and drainage of hematomas or abscesses."
In July 2011, the FDA issued a second warning after receiving 2,874 reports additional reports of vaginal mesh complications. They also stated that vaginal mesh devices do not "improve symptomatic results or quality of life over traditional non mesh repair."
The FDA's warning contained specific cautions for gynecologists and surgeons, including that they:
Undergo training for each mesh procedure, and be aware of the risks
Remain vigilant for potential adverse events, especially vaginal mesh erosion
Look out for complications during surgery, particularly perforation of the bowel, bladder and blood vessels
Keep patients fully informed of the permanence and potential complications of having a transvaginal mesh implant
Provide patients with a written copy of the labeling provided by the manufacturer
Vaginal mesh erosion symptoms
Detecting the early signs of vaginal mesh erosion is imperative.
Women who have undergone vaginal mesh surgery should be aware of the following symptoms:
Pelvic pain
Bleeding
Chronic bladder infections
Narrowing of the vaginal wall
Painful sexual intercourse or inability to engage in intercourse
Irritation and pain to partner during intercourse
Recurrence of SUI or pelvic organ prolapse
Treatment options
Once vaginal mesh has begun to erode tissue, it is extremely difficult to remove. As weeks and months pass, tissue grows around and through the mesh, which is why it can take so many operations to fully remove. Once diagnosed, vaginal mesh erosion may be treated with local estrogens and/or antibiotics. If the case is not serious, the device may be excised in one procedure, but many women have had to undergo repeated operations to resolve the problem.
A case report from the International Continence Society, which conducts research into urinary, bowel and pelvic disorders, looked at a 44-year-old, sexually active woman who had been implanted with transvaginal mesh to treat POP. She experienced bleeding and pain more than a year after the initial procedure, and her surgeon prescribed local antibiotics and attempted to remove the mesh via revision surgery under local anesthetic on numerous occasions.
After repeated surgeries failed, she was admitted to the hospital for an operation under general anesthetic. The procedure involved infiltrating the vaginal wall with a hemostatic solution to minimize bleeding, and sharp dissection was used to separate the vagina from the mesh. The vaginal wall was sutured and the woman showed no signs of further problems during a 6 month review.
Revision surgery
According to the FDA, the majority of women who have suffered vaginal mesh erosion require revision surgery to correct the problem.
Revision surgery can lead to multiple complications, including:
Excessive bleeding
Severe abdominal or pelvic pain
Heavy vaginal discharge
Damage to the bladder, bowel, urethra and internal organs
Infection
Scar tissue
Nausea
Urinary incontinence
Pain during intercourse
Surgical mesh, once fused with the soft tissues in the body, can become nearly impossible to remove. The surgeon has to cut around the tissue, causing further internal damage. In severe cases, multiple revision surgeries may not be effective at fully removing the implant, and complications may worsen.
Lawsuits citing mesh erosion
So far, an estimated 30,000 lawsuits have been filed against makers of surgical mesh products, many of them citing vaginal mesh erosion. At least three cases have resulted in multi-million dollar jury awards to the victims.
A jury in Atlantic City recently awarded plaintiff Linda Gross compensatory and punitive damages totaling $11.11 million. Gross sued Johnson & Johnson and Ethicon after being implanted with their Prolift mesh, which was intended to treat POP. She soon began experiencing severe pain, and it was later discovered that the mesh had eroded her organ walls. Gross, who described the experience as "a living hell," was forced to endure 18 revision operations to correct the problem.
During the seven-week trial, Gross testified that she has difficulty standing, sitting or walking for extended periods of time, and says she is in chronic pain. She has also been diagnosed with anxiety disorder and major depression as a result of the trauma. Her legal team ascertained that Johnson & Johnson had been aware of the risks of transvaginal mesh complications, and successfully sued for lost earnings and past and future medical expenses.
Mesh implants have been available for a decade, and continue to be a popular form of treatment for both POP and stress urinary incontinence. In 2010 alone, more than 300,000 women underwent mesh surgery. The FDA's prediction that 10% of women will experience severe complications suggests that the total number of vaginal mesh lawsuits is likely to rise.